<< Back
Garry Donaghy08 March at 10:00AM
2021 Q1 Networking Event - A New Immersible Way to Network
Are You Tired of Zoom Meetings? 
Do You Miss In-Person Networking?
What if You Could Solve Both Problems at the Same Time? 
PMIT did just that at our February Networking Event!
Once a quarter PMIT hosts a networking event for our members. These are agenda-free nights where the object is for members to meet each other, interact, and make new connections. Pre-Covid, they would often be held in a pub downtown, with attendance often in triple digits.
Since March 2020 everything shifted online. Much like the regularly-scheduled events offered by PMIT (Event Calendar) over the past year, our recent networking events have used Webex or Zoom, with suggested talking points, breakout rooms, and moderators helping people make connections.
This quarter's event used the new tool, Kumospace to enable interactive networking. Introduced to the Chapter by our Director of Branches & Communities, Michael Becker, participants turned their cameras on, grabbed some headphones, and then dived right in!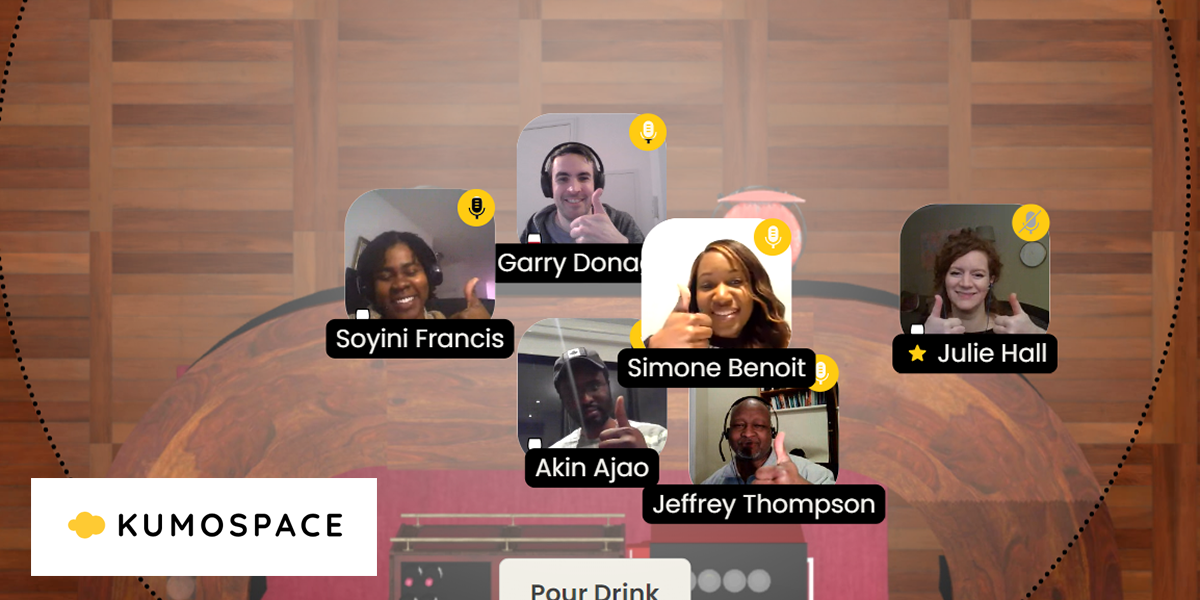 Kumospace is one of several new virtual meeting tools making headlines recently (The Race to Fix Virtual Meetings - New York Times).
This fun networking tool allows virtual rooms to be set-up, and attendees can freely drop in or out. Each person has an avatar, which displays a mini view of your live webcam feed, and audio that fades in or out as you walk closer to/away from whoever is talking. A small map shows you the location of all the people in a room at any given time, and you can freely travel around the room.
Kumospace also features a "get drink" location in every room. When you click on that button, your avatar gets a small glass of wine, that slowly empties out over time. This helps you judge the flow of a conversation, and functions as a timer to encourage you to move around and meet different people when your glass is "empty", 
PMIT decided to make rooms based on industries e.g. Construction, Finance, and for popular PMI conversation topics like "PMP Exam Advice", as well as a free discussion room.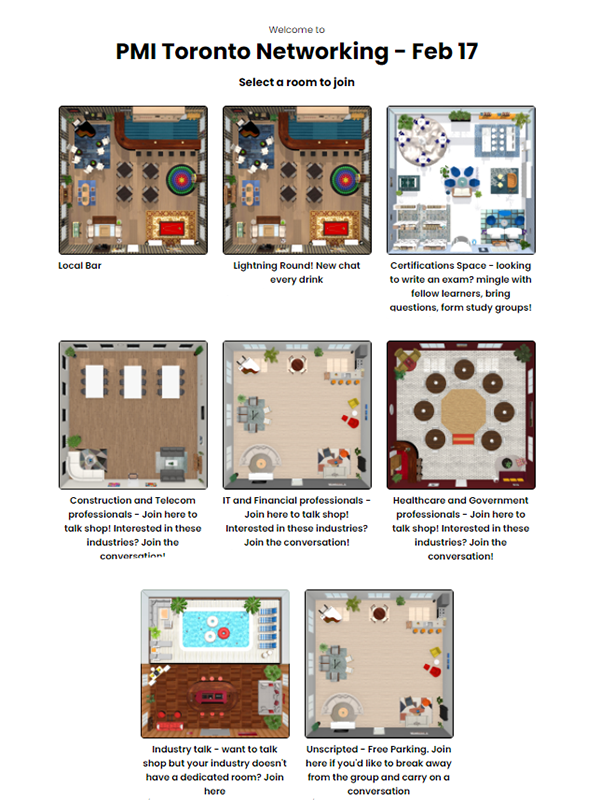 Thank you to Julie Hall for putting on today's event. It was well-attended, with several members making new connections outside their industry or area of work, and even Chapter President Dr Jeffrey Thompson attended, joining in many of the interesting conversations!
You can check out Kumospace again at the next PMIT Networking Event, scheduled for Jun 2021! See you there!