<< Back
Julia Turkheim, Marwa Suraj17 December at 10:00AM
Digging Into Disciplined Agile with DA's Thought Leaders
On November 14, PMI Canada's Technology Triangle hosted a Disciplined Agile Workshop, led by some of the biggest names in DA:
Scott Ambler

(Co-creator of DA, VP & Chief Scientist of DA at PMI)

Beth Ouellette

(CEO of The Ouellette Group and DA Chapter Champion at PMI)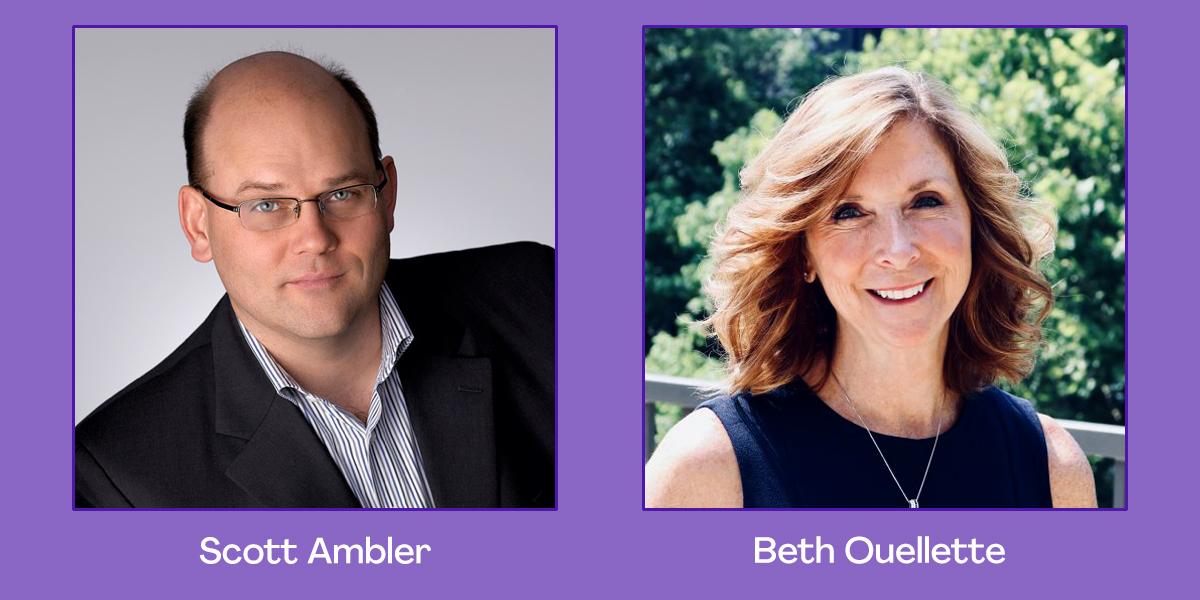 The workshop walked attendees through the fundamentals of DA, with a focus on explaining the value of the DA tool kit and how to use it in practice within DA's Guided Continuous Improvement process. The session also highlighted insights on Ambler and Ouellete's own experiences using the DA toolkit, through sharing practical applications and helpful analogies to connect the dots for those newer to the practice.


Keep reading on for some key takeaways from our time spent with Scott and Beth, and get inspired with some practical steps you can take to get up to speed with Disciplined Agile and all it has to offer your project management practice!  
So, what is Disciplined Agile (DA)?
DA is a tool kit encompassing theories of Flow, Lean, Theory of Constraints (ToC) and organizational development. DA provides straightforward guidance that enables teams to make better decisions about their Way of Working (WoW) and continue to improve WoW through guided continuous improvement (GCI).

As PMs, we know WoW isn't a one size fits all. Teams need to have the flexibility (and tools) to choose and evolve their ways of working to meet the unique and changing situations they face. In our current environment, it's more important than ever to have the tools and practical knowledge to respond to change effectively.
While there are strengths in many of the agile frameworks out there, Scott described how these frameworks can also be limiting. While frameworks like Scrum may help project teams solve a specific problem (e.g., with team leadership or requirements change management), once that problem is solved, the frameworks don't have much more to offer in terms of continuous improvement. 
This is the main difference between the DA toolkit and other agile frameworks. Where agile frameworks can be one-dimensional, providing you a solution to only a single problem, the DA toolkit is a flexible tool that can help teams to more effectively scale agile approaches to meet both their current and future needs. 
Sound good but not sure
where to begin?
Start with a DA Mindset.
While Scott reminds that a successful agile practice needs to go beyond just having an "agile mindset" (e.g., you also need skills, technology, etc.), a DA Mindset speaks to the core principles, promises and guidelines that are fundamental to the success of DA. Scott shared the following slide as a helpful overview of this DA Mindset: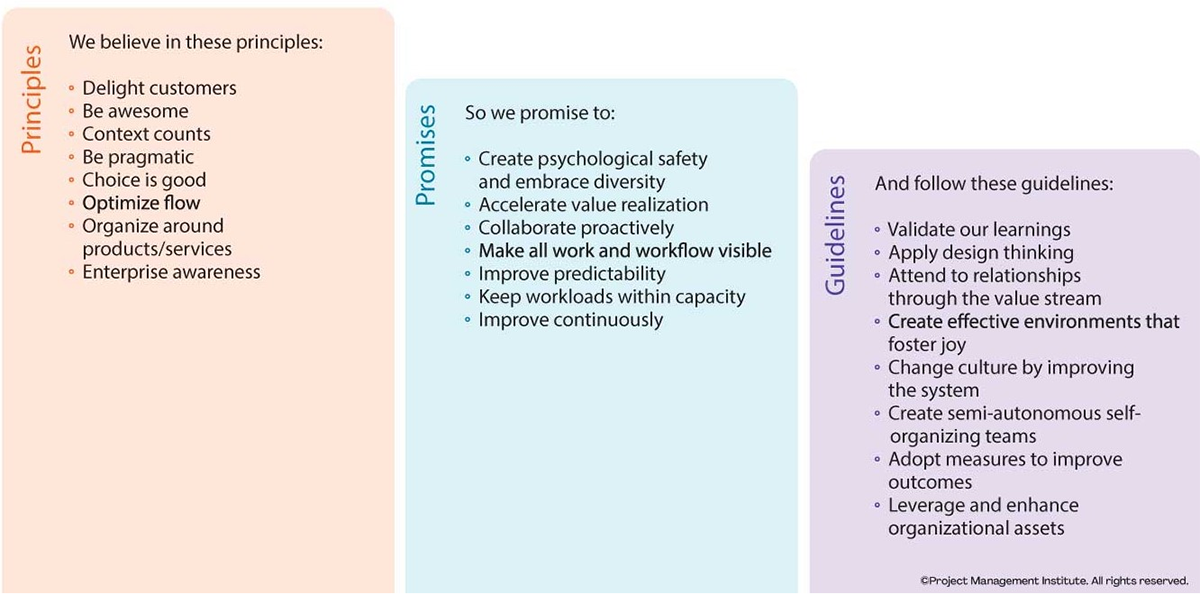 How to (practically) do things differently
Does this all sound good, but you're still wondering how DA is practically applied?
Scott shared a perfect example of DA in practice where a team struggled to obtain accurate +/- cost ranges as part of their process to secure project funding. The team faced multiple challenges, including a disconnect between the costing their finance group was requiring and the financial expertise that was actually available within the team. The team wasn't able to come up with helpful estimates and both parties were finding themselves frustrated with the process.  
Through a guided continuous improvement approach, the organization identified the problem, identified potential solution(s), and tried out some new techniques. Once they tested these new techniques, they were able to keep using what worked well and simply got rid of the rest.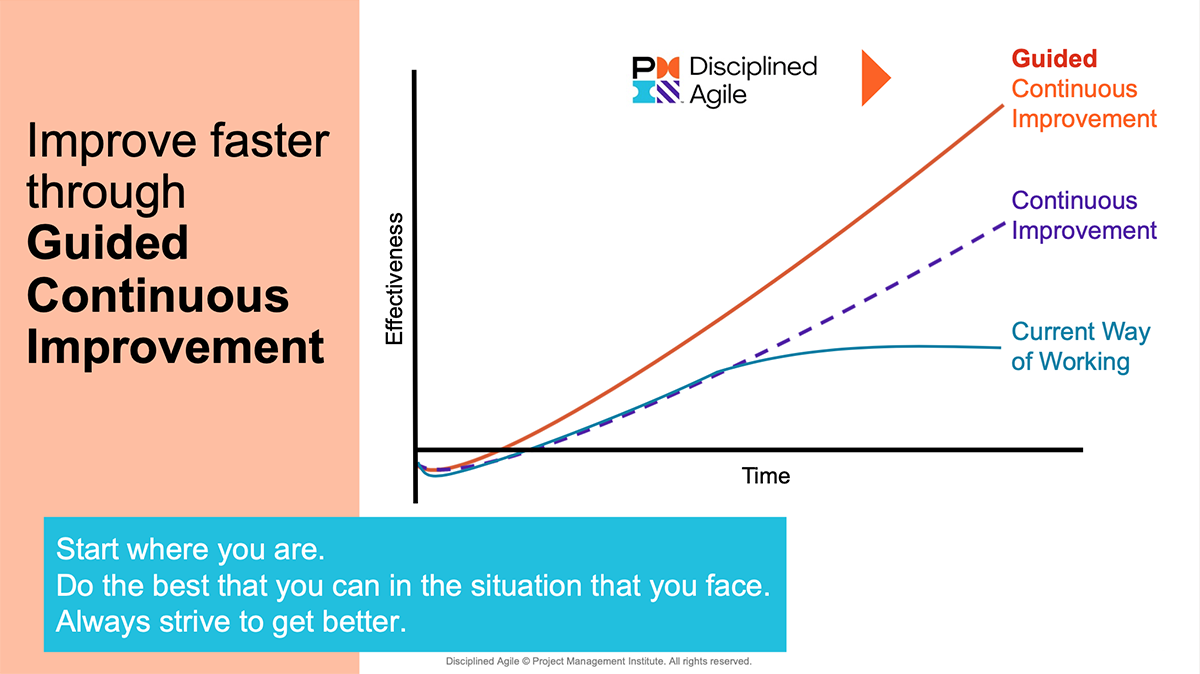 Scott reflected on several examples where he's worked with organizations (in both the IT and non-IT space) to help evolve their approach to finance, data management and other key functions of the organization. He reiterated that agile is "not just a software development thing". There are a lot of opportunities to use agile across different organizations and environments, and the DA toolkit is designed with the goal in mind of being responsive to many different project scenarios.   
Still have questions?
So did we! Fortunately, Scott and Beth shared some thoughtful responses to the questions posed by attendees in the workshop. Keep reading on for our key takeaways. 
Q: How would you describe the value proposition of DA (e.g., if you had to position it to leaders in your organization)? 
DA is applicable across industries and countries and offers a globally recognized value prop. As a tool kit that's developed by practitioners for practitioners, it's constantly evolving and being validated by its users. 
There may be a need to help work with and coach our peers and leaders about the benefits of successful agile practice. Start by asking key questions: What are we trying to achieve? How are we planning on getting there? Start a conversation about how agile practices like DA can help your organization get there, faster. 
Q: There are a lot of different project management certifications on the market. How do I know which is right for me, and how does Disciplined Agile fit in within existing certifications and PM learning?
Each certification offers a unique learning opportunity. DA exists as an option among other methods, but as a toolkit, it offers a uniquely flexible and responsive approach to project management that can be scaled to meet project needs now and well into the future.   
To understand which certification is right for you, start by doing your homework to understand what you're looking to achieve with a certification. Ask key questions: What am I learning? What's the value to me and the applicability within the marketplace or my industry?
The key is to always be learning and no matter what path you take, make a decision to be an active leader of your learning.
Q: I love the sound of Disciplined Agile, but how do I get started?
Begin with some basic homework. Read Choose Your WoW!, browse a White Paper or check out a webinar. There are DA case studies, newsletters; the list goes on - choose to be active in your learning and seek these resources out! 
If you're looking for more of a formalized learning experience, consider writing one of PMI's Disciplined Agile certifications. Keep your eyes peeled for PMI prep courses starting as early as January 2021! 
Lastly, you don't have to wait to start applying DA principles in your work. Start today; learn from your experiences, and stay agile. 
Wrapping up
We hope this post introduced you to some new ideas around Disciplined Agile and that you're excited to join us in our journey to learn more about DA and incorporate it into our practice.
Still have questions about DA, or eager to kick off the new year by preparing for a DA certification?
Check out PMI's Disciplined Agile page as a resource hub, and learn more about PMI's Disciplined Agile certifications by visiting https://www.pmi.org/certifications/agile-certifications.

Happy learning, and stay tuned for more from us at PMI Toronto!