<< Back
Sandy Matos28 June at 09:00AM
INTRODUCING THE PMBOK®GUIDE –SEVENTH EDITION & PMIstandards+™
INTRODUCING THE PMBOK®GUIDE – SEVENTH EDITION & PMIstandards+™
Technological advancements lead to efficiency and progress. As project management professionals we lead and adapt to change as well as apply new advancements and techniques into how we manage projects and teams. The changes to the PMBOK® Guide along with the digital tools available through PMIstandards+TM will be valuable tools for all project practitioners.
On June 16th PMI-CTT hosted an event introducing the changes to the upcoming Seventh edition of the PMBOK® Guide and the content available on PMIstandards+TM.
The Experts
The event was led by expert presenters, Mike Griffiths and Kate Castiglione. They spoke about what tools and content is currently available and what is yet to come.
Mike Griffiths,
PMBOK® Guide, Seventh Edition, Co-Lead
Kate Castiglione
PMI Product Specialist, PMIstandards+TM
Factors Leading to Change
The research for the revision came from different sources, market research, review of other standards, and listening to stakeholders during focus group discussions and workshops. It was also important to look at all inputs—team experiences, IPMA, PRICE2, market research, GAPPS, Praxis—in order to evaluate and adhere to any constraints to establish a standard. Using all these resources along with the experiences and recommendations of the global development and review teams guided the basis for the Standard content as well. Collecting diverse perspectives from participants and volunteers from 29 countries was a large factor. Extensive reviews and listening to the "Voice of the Customer" influenced the changes to the PMBOK® Guide.
Some suggestions that were given was to:
Maintain and enhance credibility and relevance
Improve readability and usefulness; avoid overstuffing it
Provide vetted supplemental content supporting practical application
Changes in technology have impacted the way project managers lead projects and the Seventh Edition of the PMBOK® Guide will reflect current ways of project management.
Content Changes
The PMBOK® Guide, Seventh Edition will focus on value, project management principles, and project performance domains leading to desired outcomes. A dedicated chapter will focus on the tailoring of projects which will allow for flexibility to support any framework, approach, or method.
The Guide aims to have a wider audience which can include all project practitioners (students, consultants, PMs, stakeholders, and sponsors). The biggest shift is moving away from process groups and toward project management principles which focus on value and aligning with business objectives. Performance domains are defined and desired outcomes are explained in the Guide. The revised edition will help project practitioners tailor through projects depending on their environment, industry, and lifecycle. Tailoring to each project will allow for any modifications or adjustments to be made to improve outcomes. Finally, the Guide will discuss models, methods, and artifacts that are further explored in Standards+. The visual below highlights all the planned content changes: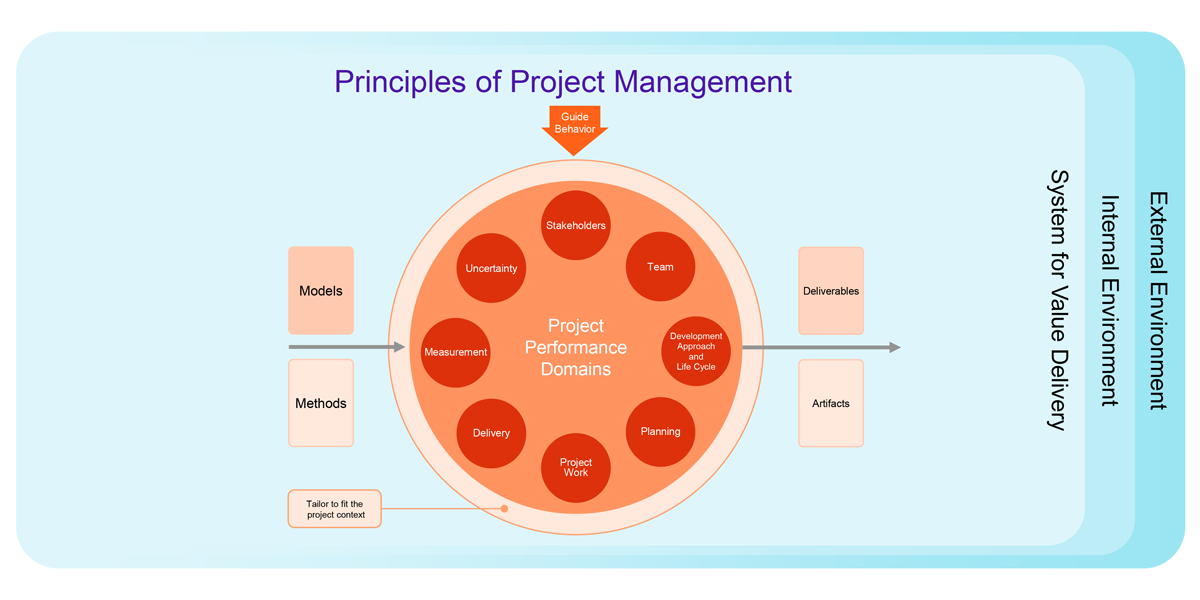 As Mike Griffiths explained the new content changes he led the presentation by stating that the "PMP exam will not be impacted by the new edition." So, anyone currently studying for their exam do not have to wait until August for the new PMBOK® Guide to be published to take their exam.
Note: The PMP exam will continue to use the 6th Edition as a reference but please keep updated on any of the certification exams, here www.pmi.org/certifications.
PMIstandards+TM
PMIstandards+ TM is accessible online (www.standardsplus.pmi.org) and contains all PMI standards and guides PLUS how-to content that help apply PMI standards on-the-job in real time. Kate Castiglione walked through the website and suggested to keep updated by subscribing. If you are a pmi.org member you can access the site with your PMI login credentials. Eventually the site will be placed into pmi.org but for now it is a stand-alone website. PMIstandards+TM includes original content in the form of case studies, videos, templates, graphics and it always connects to original standards and guides. See example below:
Filters enable you to choose your approach, industry, and format. This function allows for content to be easily searchable. The search bar enables content to appear easily as well. Any new content from the PMBOK® Guide will be added and identified as Seventh edition content. There is also a glossary added to the site for easy reference with terms built from several sources including the Agile Practice Guide, PMBOK® Guide, Sixth Edition, Guide to Business Analysis, and Practice Standard for WBS.
PMIstandards+TM includes:
4 PMI standards and guides

PMBOK®Guide–Sixth Edition
Agile Practice Guide
PMI Guide to Business Analysis
Practice Standard for Work Breakdown Structures
PMBOK®Guide–Seventh Edition coming soon!
248 Original, How-To Pieces of Content

121 articles
69 case studies
34 templates
13 interactive graphics
9 videos
Fresh content is posted each week! Check it out today at: https://standardsplus.pmi.org/
PMIstandards+TM differs from the content available on projectmanagement.com. There is a vetting process for volunteers and subject matter experts contributing content to the site. PMIstandards+TM ensures that all the content written and contributed is done by those with expert knowledge, credentials, and experience publishing this type of content. The site continues to evolve with a plan to add translations (e.g., Spanish and Portuguese are frequently requested) in the future.
The PMBOK® Guide, Seventh edition is set to publish in August 2021 but take some time and review the offerings on PMIstandards+TM which are stellar resources for any project practitioner.