<< Back
Sandy Matos25 October at 08:00AM
Member of the Month: Oby George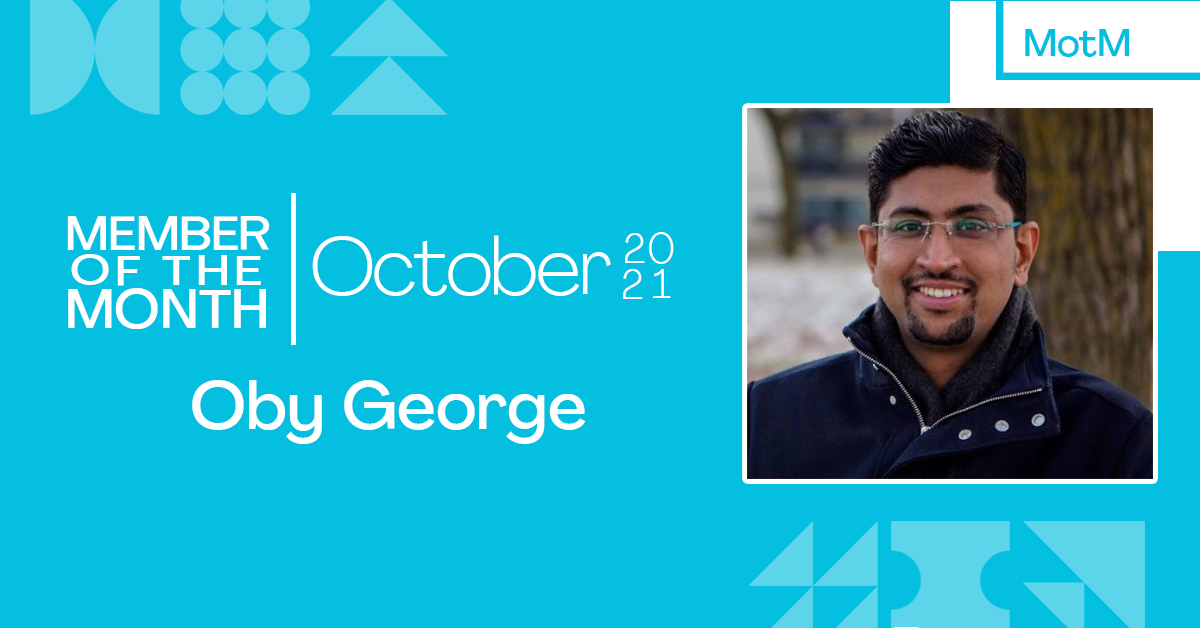 PMI Toronto Chapter is in full swing of the Career Accelerator Program (CAP) where mentees work and collaborate with mentors to further their career growth. There is a lot of planning involved in developing a new cohort, managing the program's events, and then the preparation for a new cohort begins. There are a lot of moving parts and organization is key so it is no wonder that our Member of the Month is Oby George. For those of you who haven't had the pleasure of meeting or working with Oby, he is a pillar member of the CAP program. Oby has been nominated by Pradeep Bonnell, VP, Volunteer Portfolio, who wanted to acknowledge his great work and dedication to CAP and the Chapter. Oby is a dedicated member and volunteer who can always be counted on to move projects forward and keep things organized. Oby, is a stellar Project Manager, volunteer, and one of the nicest people you will ever meet. Please help me in congratulating Oby George on being selected as October's Member of the Month.
Let's Talk about CAP
The Career Accelerator Program is without a doubt the best opportunity for both mentees and mentors. Oby advises those who are still thinking about the program to "Join it! It is an absolutely rewarding experience. Learning is an ongoing journey. Mentors learn new things from mentees and mentees learn a great deal from their mentors' experiences." When speaking to Oby his passion and enthusiasm for the program is clear, he has witnessed many mentors and mentees grow in the program. So in preparing for a new cohort Oby often speaks to people considering participating in the program as a mentor but are still unsure if they should join. He tells those who are on the fence that "unless you join you don't know whether you are ready to become a mentor or not." It's a growing experience for everyone involved and it will enhance your leadership and you will help someone looking for advice and guidance. What can be better than helping a fellow Project Manager?
CAP is a short-term, "outcome-focused program that runs for 3 months and helps mentees to achieve their specific, targeted career goals. It is also a 3-month transformational journey for mentors—and mentees—who are looking for opportunities in leadership as well as career progression and advancement."
A Career-Focused on Improving Lives
As a natural problem-solver Oby brings this quality into his career as a Project Manager in the Public Sector Network. Specifically, he leads the Defense, Local and Smart Community portfolio. In his role, he creates, manages, and organizes events to better the lives of public sector employees and the people they serve. Oby states, "I love to solve business problems by creating solution-focused content with learning and networking platforms."
Oby holds a PMP and an MBA in marketing and engineering in Electronics and Telecommunications. He has over 10 years of experience in research, event planning, and project management. Oby is also a Microsoft Certified Azure Associate. After a decade of project management experience his biggest lessons learned includes the following:
Fight for your resources

Be proactive

Overcommunication is key

Be ok with knowing what you don't know

All projects are fluid and change is the only constant

Get to know your team especially in this remote environment
All these are great takeaways for all project managers.
An Outstanding Volunteer
Initially, Oby joined PMI Toronto to network with other project managers and learn from like-minded individuals. Now he is focusing on giving back to the members of PMI Toronto. Having been a volunteer with the CAP program since August 2020, Oby explains that he really enjoys matching the mentors and mentees based on their profile and preferences. He is also active in sourcing and engaging speakers/storytellers, who will bring further education to all those involved in the mentoring cohorts. He actively writes content, moderates the sessions, plans, and executes the events.
More About Oby George
Oby is honest, hardworking, dedicated, and organized. He follows Robin Sharma's holy hour—5am to 6am—routine that includes 20 minutes of exercise, 20 minutes of reading, and 20 minutes of journaling. A great practice to ensure the mind, body, and spirit are connected and charged for the day ahead.   
Inspirational Quote: From James Clear's Atomic Habits, Oby finds the following quote inspiring: "If you want better results, then forget about setting goals. Focus on your system and routines instead."
Work Passions: I am super organized and live and breathe Excel. 
Personal Passions: I love to read, spend quality time with family and friends.
Linkedin Profile:  https://www.linkedin.com/in/obygeorge/  
Nominate a Fellow PMIT Member
We are always looking for ways to showcase our dedicated and invaluable members and volunteers. Take some time and nominate a fellow PMI Toronto Chapter member to be featured in our monthly Member of the Month series. Please send your nomination suggestions to communications@pmitoronto.ca and why they should be featured.