<< Back
Sandy Matos26 July at 12:00PM
Member of the Month: Reshad Yaqubi
Introducing PMIT's Member of the Month
Reshad Yaquibi is PMI Toronto Chapter's Volunteer of the Year for 2021. Reshad currently volunteers for PMIT's Branches and Communities portfolio. During his time with the portfolio (previously led by Michael Becker), Reshad has played a significant role in co-ordinating and running events for various communities including government, construction, information technology, and business analysis. One of his other achievements over the last year was assisting with the training and orientation of new volunteers to the Chapter. He even worked with his team to test out the virtual networking tool, Kumospace, PMIT used during online events so that our members and event participants could have a space to network from the comfort of home. After speaking to Reshad his insights, commitment, and passion for project management was clear.
He is a dedicated volunteer to the Chapter and his contributions extend to his personal life as well. For example, during a trip to Havana, Cuba he made a point to deliver supplies to a local school's children. We are pleased to introduce our readers to Reshad Yaqubi.
Reshad Explains His Project Management Journey
My journey into project management was not always planned. In fact, a colleague at Bell Canada suggested that I obtain my PMP certification based on my passion to collaborate with others and solve problems in an organized and structured manner. I decided to take a project management course—Education Edge in Mississauga—to simply broaden my skills and I absolutely loved it! I learned that my skills are well suited for the project management field and that I really enjoy leading the work of a team to deliver results with given constraints. I realized that I could actually make a career with my organizational and leadership skills.
Current Occupation
I currently work as a Project Manager with Bell Canada. My focus is to become the best possible project manager. I currently have a PMP certification and it helped provide me a structured methodology to executing projects on schedule and within budget.
Experience and Education
I have a BA in business management with 10 years of corporate experience. I began developing my core skills in project management when I joined Bell Canada. In earlier roles, I learned to develop business cases for projects by carefully analyzing project requirements and conducting feasibility studies. I was able to successfully deliver multiple projects from initiation and planning, to completion. Working for a big corporation enabled me to collaborate with and manage anywhere from 10 to 50 stakeholders on each individual project. In 2018 I obtained my PMP certification, and have since completed a negotiation skills course and Microsoft Project course for project managers. I am planning to acquire the Disciplined Agile Scrum Master (DASM) certification in the near future.
Every project is unique and the key to success is to maintain a persistent approach toward continuous learning and improvement. The ability to adapt/remain agile has provided me an informed view of what types of planning and implementation strategies are most advantageous for any type of project.
One of my earlier projects when joining Bell Canada was one that provided internet services to tenants of a condo building. The bulk internet services would be included in their condo fees. I was involved with getting the project charter ready for the kick-off meeting and identifying stakeholders. This was an interesting experience and provided great insights into what is required to execute a project. I learned to be agile and be creative. 
Why Did You Join PMI Toronto Chapter?
I joined PMI Toronto in 2019 because I am really passionate about project management, and I wanted to learn and get to know more people in the field. PMI Toronto has been an integral part of my learning experience and I love networking with fellow professionals and attending the interesting events!
Becoming a volunteer has also been a great experience and I learned a great deal from our previous portfolio Director, Michael Becker. I am also looking forward to the new fiscal year with Claire Dobbin as the current Director of the Branches and Communities portfolio.
What Does Success Mean to You
For me, success means delivering on the project deliverables agreed upon at the start of a project and providing real value to end users and all stakeholders involved. Success is only possible with a plan in place! I start my day off by checking my calendar and creating an appropriate plan for the remainder of the day.
More About Reshad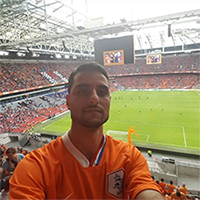 Work Passions: To motivate and lead others to achieve success, deliver results, and the best customer experience.
Personal Passions: I love three things more than anything in this world! My family, music, and soccer. I also enjoy reading and traveling in my spare time and hope to visit Istanbul and Dubai in the future. 
Favourite Quote: The definition of insanity is doing the same thing over and over again and expecting different results." — Albert Einstein
Reshad Yaqubi is reliable, ambitious, and a leader. His contributions and commitment to PMI Toronto Chapter is appreciated by fellow members.
LinkedIn: linkedin.com/in/reshad-yaqubi-5882b55
If you would like to nominate a PMI Toronto Chapter volunteer to be featured in our monthly Member of the Month series please write to us at communications@pmitoronto.ca.