<< Back
Sandy Matos29 November at 02:30PM
Member of the Month: Roberta Jane Heggie

Another great month has passed at PMI Toronto where we have collaborated with so many of the Ontario Chapters during several events. Collaboration, inclusion, and unity is so important for many reasons but mainly it brings others together to achieve a common goal. This concept is also important for PMIT's November Member of the Month, Roberta Jane Heggie—please call her Jane. I have had the pleasure of working with Jane on many different projects during her time as Chair of the Diversity, Equity, and Inclusion (DEI) Committee. She is dedicated, passionate, sincere, driven, and always willing to collaborate which is no wonder she is recognized this month as our featured member. Jane has been nominated by Chapter President and DEI Committee Sponsor, Dr. Jeffrey Thompson. Please help me in congratulating Jane on this recognition. 
Diversity, Equity, & Inclusion: Continuing the Work
The Toronto Chapter started the DEI Committee in the Fall of 2020 and Jane served as the Chair and worked to build a team of dedicated volunteers to work on creating positive changes not only within our Chapter but for all our members. She worked to build relationships and partnerships with other Chapters across PMI so that we all have the same goals to effectively create positive changes and build diversity and inclusion within teams. As Jane explains, "we inquire into the current feelings around inclusion and equity, to promote diversity and reach out to other PMI Chapters." In October Jane was one of the guest speakers during PMI's Leadership Institute Meeting where she spoke about how to start a DEI committee in your own Chapter by discussing the steps she and her team took to build the Committee at the Toronto Chapter. To read more about her presentation please visit PMIT's recent blog. 
A Dynamic Project Management Career
Jane has been a project manager for over 20 years working in technology and software design. She has worked in several different industries including Digital Services and Public Service for both small to mid-sized companies. Having worked in the software industry since 1992, she switched to technology and project management in 2000, while living in Calgary. Later—in 2012—she worked with corporate PMOs. Jane explains "my work with PMOs includes process development, senior leadership, and corporate governance."
When asked which project she was most proud of she had lots of great examples, but one was top-of-mind. Jane led a project for an organization to build an incentive program for employees. The project was quite in-depth, with several moving parts, and short deliverables, and continuous engagement with many stakeholders. What started as a project using a waterfall method shifted into an agile approach with three different agile teams managing different aspects of the project and Jane overseeing it all. Listening to her speak of this project it is clear it is one she is quite proud of leading. Jane is now working as a management consultant. Of course, every project manager has sage advice on what they have learned, and Jane offers this as her lessons learned to fellow project management professionals:
Having the right people in place on your team and trusting them to make decisions and mistakes is important.  People make mistakes, they learn from them, and they get better. Team members like this make good, GREAT!
A Volunteer and a Leader
Jane became a PMI Toronto member in 2004 while pursuing her PMP certification. During a Chapter event she met a volunteer—a member of the Board—who convinced her she had a lot to offer the Chapter and should become a volunteer as an executive, so she did. As a PMIT volunteer, Jane served on the Board of Directors, held the role as Chapter President, and held many other leadership roles over the years. Most recently, Jane was the DEI Committee Chair. Jane is a proud PMI member and highly regards the PMP certification which she has helped her to find work on exciting projects over the years. Jane says "the PMP is an internationally recognized credential and allows for a lot of mobility for PMP holders." Thinking of becoming a PMP? Well take Jane's advice, you won't regret it; it will open doors. Currently Jane is considering obtaining the PMI-ACP and the PgMP. 
More About Roberta Jane Heggie
Jane is a leader, a great listener, someone who is compassionate, welcoming, and willing to have the tough conversations to ignite change. She is also quite supportive, collaborative, and strategic. Leaders don't just speak of change, true leaders turn words into actions. This is what I have seen Jane do and it is no surprise she is recognized for her dedication to the Chapter and the success she has had over the years. How does Jane, herself, define success? She states that success means "personal satisfaction for myself and my team. A project is a success when we all agree it's done." Jane is proud of the work she has accomplished not only as a project manager but also as a PMIT volunteer and leader. 
Morning routine: I start my day off with coffee, watching the news, and answering emails.
Work Passions: I want to build a great team and build their competencies.
Personal Passions: I want to see people get the best out of this life, when I see barriers to participation, such as bias, ignorance, and abuse of power it pushes me to use my voice to implement change.
Personal Touches: Jane shares a photo of her Thanksgiving table which looks lovely and inviting.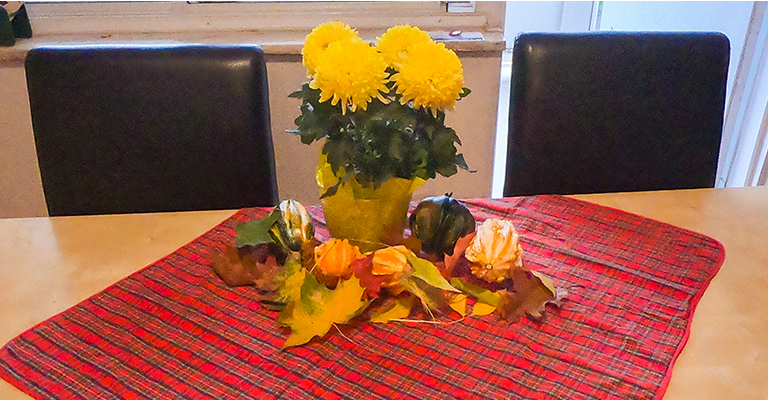 Nominate a Fellow PMIT Member
We are always looking for ways to showcase our dedicated and invaluable members and volunteers. Take some time and nominate a fellow PMI Toronto Chapter member to be featured in our monthly Member of the Month series. Please send your nomination suggestions to communications@pmitoronto.ca and tell us why they should be featured.