<< Back
Mary-Ann Spearing 29 September at 02:00PM
Residential Schools and the Inspiration for Orange Shirt Day
The origins of the Orange Shirt Day
On September 30 come and join us in celebration of honouring and remembering the survivors and victims of the residential schools that passed on. Residential schools are a tragic part of Canadian History and these stories need to be recognized and shared to help grow our society to be a better place for all Canadians.
The traditional Indigenous-Inuit, Metis and First Nation education was provided in informal ways where knowledge was shared through communication, family and community interacting, guidance and teaching through daily activities of living. When colonization happened in Canada, the Canadian government wanted control over Indigenous people and their lands thus education was considered a method to assimilate Indigenous children into Caucasian society. The Canadian government funded and enforced education laws for all Indigenous children to attend the residential schools and the residential schools were managed by the various churches. Indigenous children were taken away from their families to attend the residential schools, they were forced not to have contact with their family and community and as a result they no longer received their Indigenous education and contrary to what family and community members were informed, the children did not receive a Caucasian education either. 
While the children attended the residential schools they experienced extreme hardships, including neglect, cultural, spiritual, emotional, mental, physical and sexual abuse. They did not receive proper medical care when they were sick, they experienced racism, discrimination, were forced to stop practicing their culture, traditions, language and forced to work. Additionally, they stopped having contact with their family, were not given affection, love, were not treated as children or given guidance that they needed. Many children died from the extreme abuse, were killed and/or died trying to escape. Many families were not informed of their child's passing and the children did not receive a proper burial. For the children that did survive, the experience at the residential schools was traumatic, the pain and suffering hashad lifelong and intergenerational negative impacts.
Many Indigenous residential survivors are sharing their truth of what happened to them at the residential schools and the impact on their lives, families and communities. Phyllis Webstad is an Indigenous author and speaker who shares her experience of the first day attending the residential school. She was wearing an orange shirt that her grandmother gave her, she was stripped naked, the shirt was taken, and she never saw the shirt again. Ms. Webstad's experience at the residential school inspired The Orange Shirt Day (September 30), a national day of remembrance for the victims of the residential schools that passed on and for the survivors to be honoured  and remembered. It teaches every child that their culture matters. (To read more of Phyllis' story, please visit orangeshirtday.org/phyllis-story).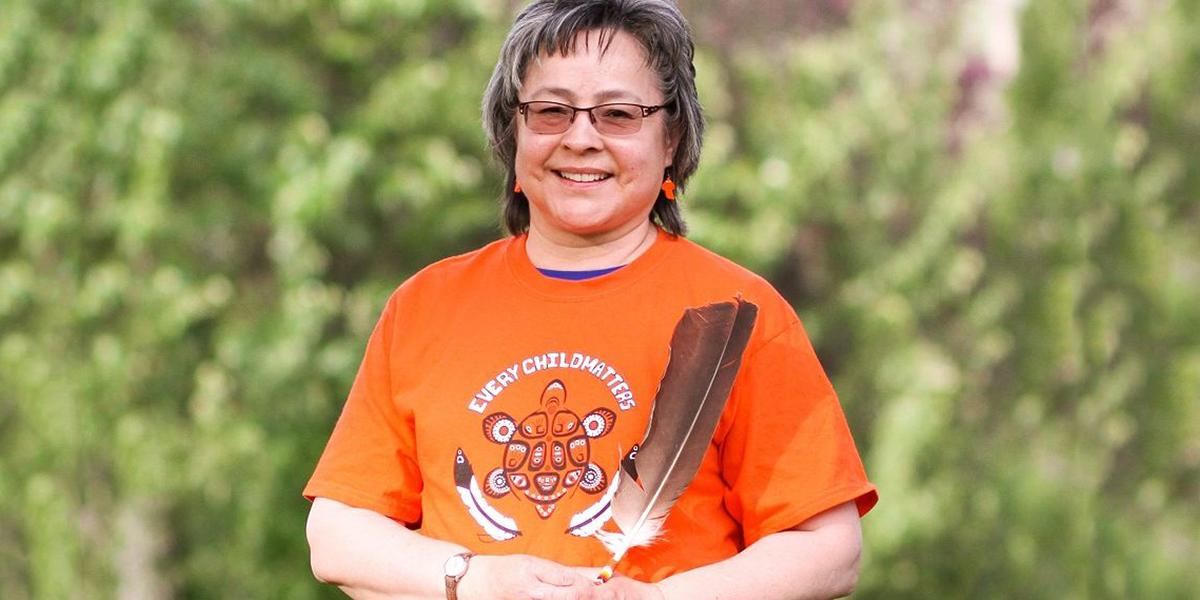 Phyllis Webstad
The Canadian government supports The Orange Shirt Day Campaign and has apologized to all Indigenous residential school survivors, their families and communities they have compensated survivors, and continue to support reconciliation efforts. Indigenous people are healing, they are sharing their residential school history so that all people have a better understanding of the trauma and pain Indigenous people have experienced so they can continue their journey to self determination and taking back control over their own education methods.
The Orange Shirt Day Event
Due to the regulations and social distancing currently in place, many Orange Shirt Day events are available virtually. Over 300,000 children attended the online Every Child Matters event. Please check out the following links to learn more about the Orange Shirt Day and to book Phyllis Webstad (bookings@orangeshirtday.org) to personally speak regarding her residential school experience.
On September 30, we ask you to listen with open ears to the stories of survivors and their families, and to remember those that didn't make it. Post pictures of your event or activity, share your story, or simply enjoy others sharing theirs (#orangeshirtday #orangeshirtday2020).

Blessings to all the Indigenous residential school survivors, knowledge keepers and to everyone that participates in learning Indigenous history, supports healing and reconciliation efforts.
Mary-Ann Spearing
B.A, B.S.W
I have included a picture of the roots of a tree, it symbolizes  perseverance, longevity, and strength as each season passes; the tree adapts and continues to grow tall in confidence knowing that the roots are its foundation. As an Indigenous woman, I believe that I am interconnected to my ancestors and the earth, that we are one race of people that has the capacity for good as we are all related.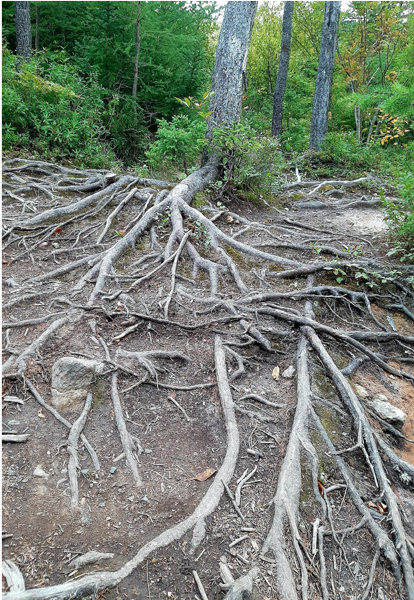 (The residential school information that was provided is taken from personal information given to me from family and friends who attended residential schools and/or are intergenerationally impacted, and my personal formal and informal learning about Indigenous history and my current knowledge. Details regarding Ms. Webstad personal residential experience were taken from the Orange Shirt Day website).