<< Back
Jacqueline Poirier and Sandy Matos16 February at 08:00PM
Recruiter Bonanza: Learn How to Land your Dream Job!
Showcase Your Best Qualities and Land Your Dream Job
On January 21, PMI Toronto hosted another great event, Recruiter Bonanza: Learn How to Hone In on Your Best Qualities to Land your Dream Job. Whether you are starting out in your career, looking for a new opportunity, or hoping to land your "dream" job, this event explored every avenue.
The evening was led by experienced recruiters from some of Toronto's top recruiting firms. Each of the speakers provided great advice and tips for anyone looking to land their dream job. The topics covered everything from resume do's and don'ts, revamping your LinkedIn profile, showcasing your unique skills, networking, and preparing for an interview. 
Working with a recruiter can increase your chances at finding your next, or even first, job. The evening was jam-packed with sage advice on being successful in your job search and standing out. 
Presenters included: 
Virginia Amidjinov (Robert Half)
Ankit Doshi (Robert Half)
Ewa Aleksiewica (IT/IQ Tech Recruiters)
Jasmine Santodonato (IT/IQ Tech Recruiters)
Jordan Stern (Randstad)
Michelle Diaz (Modis)
Trista Lin (Eagle Professional Resources)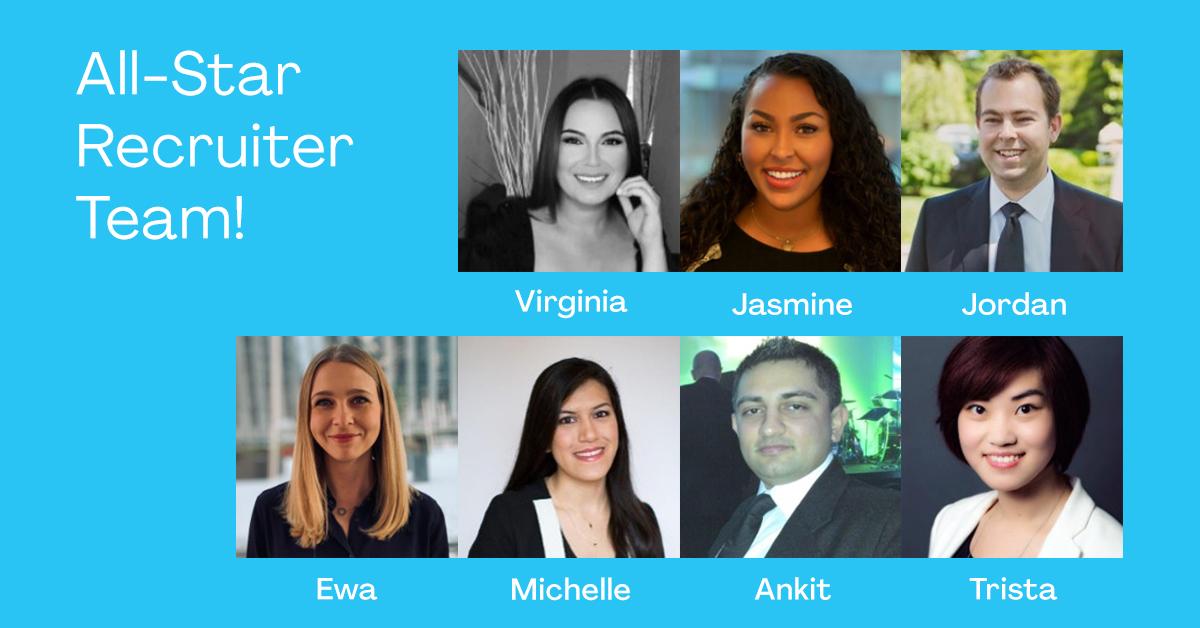 The State of the Workforce
The pandemic has changed how we work, how we communicate, and how we can grow in our careers. Robert Half has conducted several unique surveys since the pandemic started and their findings have been eye-opening. One survey revealed that Canadian workers are considering a job change. The image below depicts some of these findings.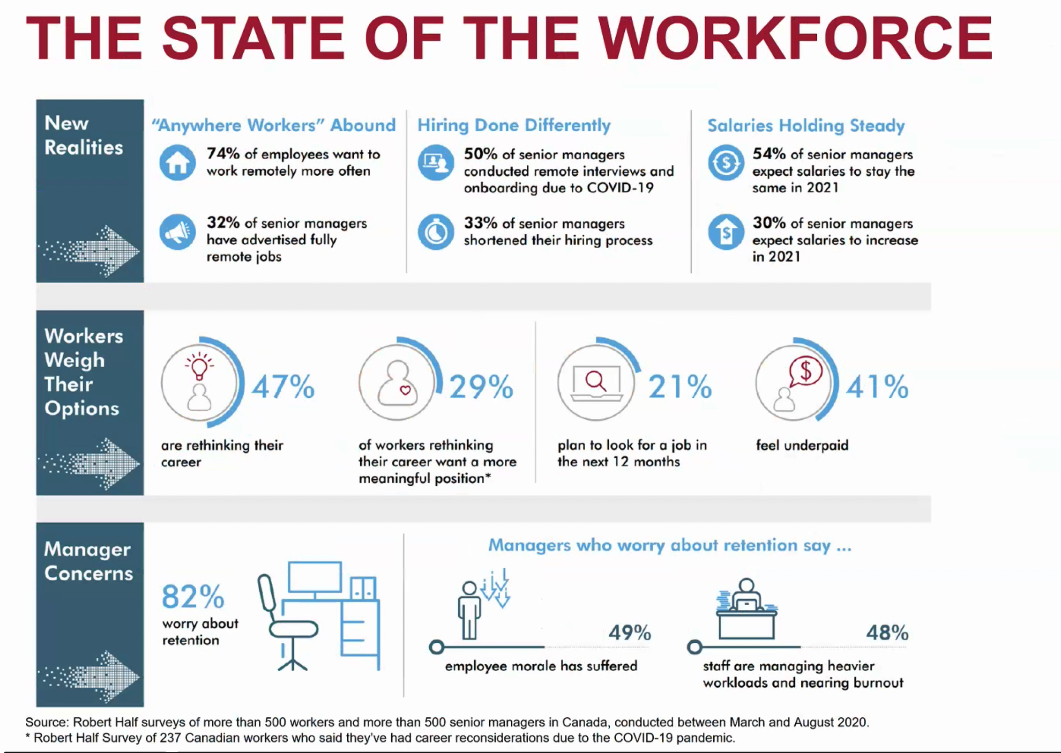 Regardless of where you find yourself in your career, a lot can be learned from these top recruiters.
Get your Resume to the Top of the Pile
Virginia Amidjinov and Ankit Doshi are senior recruiters at Robert Half and provided key insights into sharpening up your resume. 
Tips for Success
Functional resume – Great for entry-level job seekers or those re-entering the workforce after a long absence. Highlighting your skills will make you stand out.

Combination resume – Showcase your core skills and accomplishments with an abbreviated list of your work history. According to Ankit this type "has been the most successful in landing jobs."

Customize your resume to the job post – Avoid irrelevant information and stick to the job post.

Focus on your accomplishments – Don't get descriptive about your job duties.

Watch those typos – Avoid any spelling or grammar errors. 
LinkedIn: A Powerful Networking Tool
Ewa Aleksiewica and Jasmine Santodonato at IT/IQ Tech Recruiters identified ways to make your LinkedIn profile get noticed. Some of the main areas to focus on are:
Say Cheese – Add  a professional profile picture so any new or potential connections can put a face to a name.

You are more than a title – Customize your headline and bring attention to what you can do. If you have a PMP, shout it out.

Hyperlinks – Make sure your LinkedIn URL includes your first and last name. Add it to your resume. 

Selling not Summarizing – Writing a compelling summary will make you get noticed. Focus on adding descriptions about who you are, what you do, and what impact you have had in your job/industry. Ewa recommends that you "use your key words to brand yourself".

Endorsements – Ask for endorsements from your network and feature your top skills.

Make connections – Remember to personalize your connection requests by adding a short note. Don't just click "Connect".
Stand Out and Get Noticed
Jordan Stern, a recruiter and account manager from Ranstad discussed how to get your resume noticed and achieve the end goal of getting an interview. 
Identify your goals – Whether your goal is to find a job or getting exposure to specific skills, make sure to map out what you hope to get out of sending out your resume. 

Pinpoint what your unique skills are, it could be a combination of key areas.

Create an action plan to achieve your end goal.

Use all the tools available to you: LinkedIn, Facebook, your network, job boards.

Work with a recruiter.
Network and Practice your Elevator Pitch
Michelle Diaz of Modis explained how networking is not just for job seekers. Networking can lead to business connections, gaining new perspectives from others in your industry, and yes, career advancement. LinkedIn is a great networking tool and Michelle advises that you should comment on posts, "Don't simply like it, add a comment. Not only do your connections see it but others following the post will see it". Michelle also highlighted the importance of crafting your elevator pitch. Here are some tips: 
Be creative

What is your objective?

What have you done?

What sets you apart?

What are you passionate about?

Be confident

Practice, Practice, Practice!
You Did It, You Got the Interview - Now, Get Ready
Trista Lin of Eagle Professional Resources explored the ways you can prepare for the interview process by addressing what HR, hiring managers, and executives are looking for in a candidate's winning qualities. Trista indicated four areas to keep in mind when preparing for the interview:
Do – Focus on your experience by proactively preparing answers based on the job description.
Want – Be interested and engaged during the interview and research the company.
Fit in – Integrate the ways you have used your communication and conflict resolutions skills by providing examples.
Future – Show how you can bring value to the company.
Trista also suggests that you prepare questions to ask at the end of the interview and make sure to follow-up with a thank you note (email) and get your recommendations ready.
Each presenter brought insight to each area and shed valuable light on the expertise recruiters can bring to job seekers or anyone looking to grow in their profession.
Looking for a new work opportunity can seem intimidating but partnering with a recruiter will enhance your search in finding that "dream job" and teach you how to set yourself apart from the competition.