<< Back
Luiz Esteves (He / Him), PMP, PSM II19 May at 02:00PM
DEI: Learning from the project management community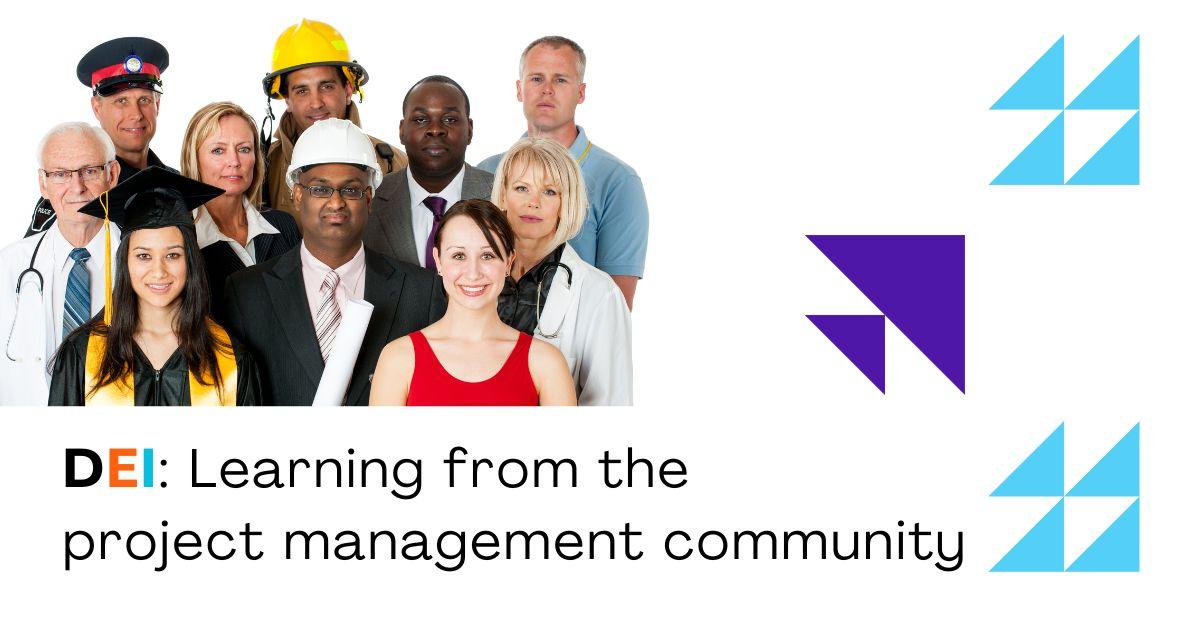 As we progress in our life-long journeys as project professionals, we may wonder if other people are going through similar steps as we are or whether they may be facing the same roadblock we're currently working hard to remove. This circumstance is where the tried and tested peer support networks come into play, showing that quality communication amongst members can help alleviate the pressure and, sometimes, curb the feeling of loneliness some may experience during their journeys.
Nonetheless, as change markers, we feel the urge to keep going, and to help fuel the motivational tank. We'd like to share a few Diversity, Equity, and Inclusion (DEI) initiatives other chapters in the vicinity of Toronto are doing and making headway for their professional communities and society at large.
PMI New Jersey
The Vice President of DEI PMI New Jersey chapter, Lystra Haynes (pronouns she/her) started a simple, yet effective initiative to increase awareness of chapter members from equity deserving groups and their accomplishments and contributions to the community. Every month, they feature a volunteer sharing some insight into the reason why they became a volunteer with the Chapter, which areas they are involved in, what they enjoy the most in volunteering with PMINJ, and a personal touch, such as favorite vacation destination. Every cycle, the Chapter widely advertises the featured member of the month in their main communication channels, such as the members' meeting and the Chapter website.
They also run a monthly publication on Cultural Competence, covering month-long observances on the DEI calendar. The publication brings awareness of the observances, provides links for additional information to members and how they can get involved. The information is shared on the PMINJ site, YouTube channel and email distribution.
This attitude allows the Chapter members to find elements of commonality, enabling potential connections through relatability. Human beings are more susceptible to getting involved in things they can easily relate to. Elements as simple as working in the same industry, cheering for the same sports team or enjoying the same hobby can go a long way to establish meaningful and long-lasting relationships.
PMI Montréal
Other chapters are also taking the initiative on the DEI front as well. Our neighbours in Montréal have recently unveiled the PMI Montréal Chapter DEI Statement. In a short interview with Mariama Zhouri (pronouns she/her), President of the Chapter, she provided more insight on what motivated the Chapter into posting this initiative. In partnership with the community of practice dedicated to women in Project Management CdP Exclles), the Montréal chapter celebrated the launch of the EDI Statement. According to Mariama, the announcement made on International Women's Day (March 2023) was perfect timing. It was also marked by the first women  in-person event of the Chapter since covid. On this hallmark day, it was disclosed their commitment to their members to reflect the diversity of Québecois society. Mainly in a cosmopolitan area like Great-Montréal, a fusion of diverse professionals, skillsets, industries, minorities, and groups of influence from all over the world, contributing to both English and French-speaking communities, flourishing and progressing the chapter.
Mariama believed that taking this public stand was important to PMI Montréal and its members: ''we are the reflection of our members and society. Our chapter is an inclusive and safe space for equity deserving diverse groups''. This gesture is another step to weaving DEI into our activities. "That's why creating a Statement was essential. That being said, our journey to DEI started years ago. This is only a formal public commitment. Our members experienced aspects of DEI in all activities delivered since its creation in 1977. We are continuously reshaping our future as well in the spirit of DEI with intensive technological changes, future of work, AI and human capital, a new way to be inclusive" said Mariama.
When asked about their motivation to take on this initiative, Mariama mentioned that in parallel to her professional career in Risk Management Advisory services, she actively advocates  for DEI   as part of community  involvement.  For her, it's a natural way of life. Therefore, shortly after becoming an Executive Board member within the Governance committee, she took the lead on this opportunity. PMI Montréal hopes to position itself at the forefront of this discussion, establishing a place where the community can mingle and prosper on their diversity. Mariama was the third woman elect-President of PMI Montréal chapter since its inception, in 1977, and the first of an equity deserving group.
DEI Collaborative
Thinking globally there is a DEI Collaborative, a world-wide affinity group where chapters from different continents share experiences and accomplishments in Diversity, Equity, and Inclusion. This collaborative is a good group to bounce off ideas and keep Chapter leadership informed of the latest DEI initiatives in the project management community globally.
Examples such as these highlight the progress DEI is making in the project management community. Hopefully, you now have resources, ideas, and a sense of community to keep going ahead in your DEI journey. Should you have questions or would like to discuss DEI-related subjects, feel free to read other blogs in this category at our website or reach out by email.