<< Back
Marwa Suraj and Jacqueline Poirier23 December at 10:00AM
The Emotionally Intelligent Project Manager for the New Normal
Sam is a project manager with fifteen years of exceptional project delivery within the same organization. He has worked in the same department, handling multifaceted, multimillion-dollar projects with ease and competence.
He is famous for being an extraordinary project manager. Despite his undeniable prowess in managing large projects, even Sam did not expect the magnitude of the pandemic's impact on business continuity.
In response to local health regulations and employee safety concerns, management opted to adopt remote work until further notice. With about 90% of his workforce being working parents, there are concerns about juggling obligations–finding that work-life balance has been problematic. Homeschooling, household chores and indoor sports were fun while it lasted, but working parents face challenges.
Sam has failed to demonstrate the kind of performance his company is looking for. So much for being a great project manager, he is starting to think.
How can Sam improve his
emotional intelligence to meet
the new normal of his job?
Emotional intelligence (otherwise known as emotional quotient or EQ) has twelve elements: four domains and eight competencies.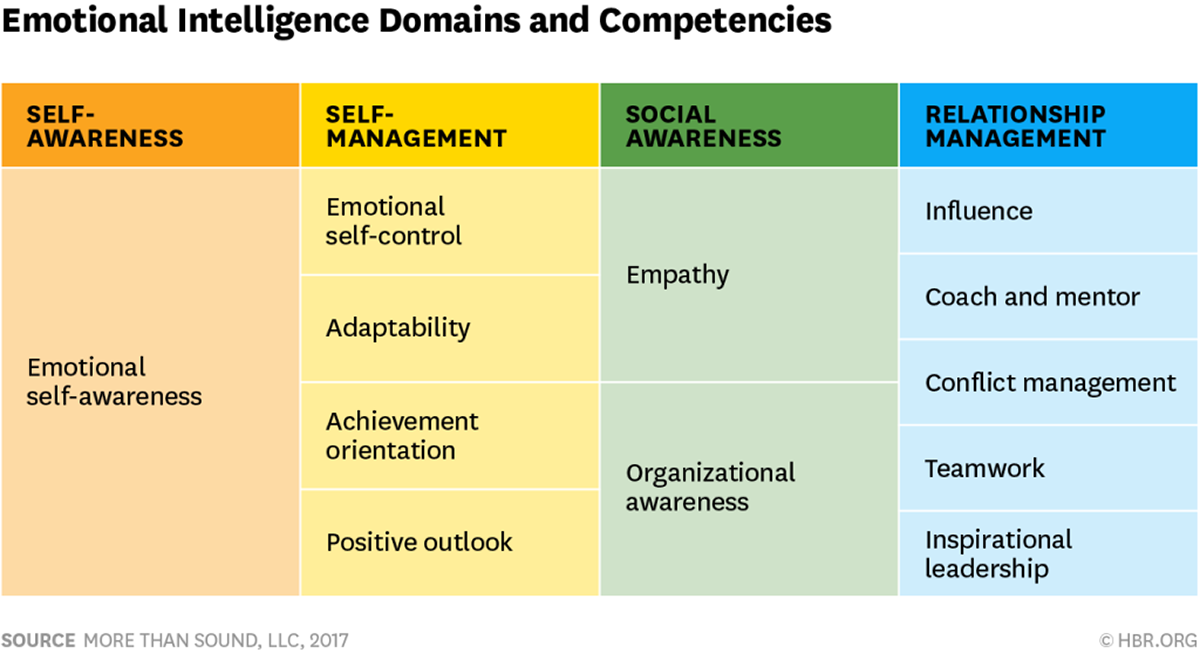 Sam has realized that his competency in project management, likability as a leader, and spectacular presentation skills are not enough to get the work done these days.
Self-Awareness
Nothing is as tricky as an objective self-evaluation. Project managers have a long list of core competencies they can boast about, but self-awareness is hardly one of those.
Sam shortlisted his unique strengths as organizational savviness, decision making, ability to influence and charismatic public speaking. After some much-needed introspection, he identified his deficits in coordinating a remote team over virtual platforms.
Like most of us, Sam has a challenge keeping his virtual team motivated despite his stellar communication skills.
In his attempt to motivate himself, Sam felt he might have unconsciously raised expectations for his entire team, overloading his squad with more tasks as a means to overcompensate.
Self-Management
We all have emotions, negative and positive, with varying intensities on a number line. Changemakers have the power to effectively regulate these emotions to elicit positive outcomes on their projects.
Sam is a go-getter, determined to meet his targets despite evident changes to workflow. He has always been well-liked at work by his colleagues and the executive leadership team, so Sam feels pressured to live up to expectations, disregarding his creeping anxiety and loneliness – social distancing is not an extrovert's best friend.
Social Awareness
Active listening, clear communication and interpersonal skills are the bedrock of every functional social interaction. However, to form a robust team structure, this foundation needs building blocks like empathy and critical observation.
Sam has decided to work on empathy, virtual etiquette, and new ways to keep his teammates motivated. It all starts with listening attentively to his project team to understand their individual needs. To succeed in a volatile and complex business climate, Sam needs to articulate his vision to align with his organization's changing needs. 
Relationship Management
Relationship-oriented managers, unlike results-oriented managers, focus on people and whether they feel fulfilled at work. High-performing project managers distinguish between manipulation and control from proper relationship management: focusing more on nurturing meaningful connections with internal and external stakeholders.
Sam noticed every team member faces challenges, mostly attributable to the evolution of work and processes. Sam decided to go beyond listening; he pledged to recognize their concerns both personally and professionally. He knows it's not enough to say thank you, and he needs to keep his team engaged even if it's more effort than he has exerted in the past.
Failure to understand the impact of these changes on the lives of his team, how they are feeling or coping has caused a gap and progressive detachment from his most dedicated staff.
Sam's organization also noticed that bonuses, wage increases and promotions no longer make the cut. 
The Challenge: Sam has to develop creative ways of keeping his team motivated; it doesn't get more complicated than this.
At a time when leaders are expected to transform organizations and survive in a fast-changing business climate, people-centred leadership is key.
Will Sam see an improvement in team performance if he works on developing his EI skills?