<< Back
Sandy Matos15 November at 08:35AM
Highlights from 2021's Leadership Institute Meeting
Event Highlight
Leadership
PMI Global

PMI's Global Virtual Leadership Institute Meeting was held on October 9. It was a day filled with learnings from PMI professionals around the world. Throughout the day 60 presentations and talks were held from PMI Board of Directors and PMI Chapter leaders including leaders from PMI Toronto. It was a day of education, celebration, and vision for what more we as project management professionals can do to make a difference and how PMI is positioned to make this coming year a successful one.
Tony Appleby, Chair, PMI Board of Directors, stated that "PMI has always been a community to enable people to share knowledge, resources, and experiences related to managing projects." In the upcoming year PMI is initiating PMI 4.0 strategic objectives:
> Broaden our reach
> Extend our Impact
> Build Lasting Relationships
The topics covered included subjects on engagement, social impact, leadership, and diversity, equity and inclusion (DE&I). There were a few project management products featured along with an exciting Chapter award ceremony and the LIMC graduation. Even though there were many great takeaways from the day, I want to acknowledge the leadership and successes from PMI Toronto leaders and members (past and present).  
2020 Leadership Institute Master Class (LIMC) Graduate
LIMC is a journey of leadership development and specifically tailored to volunteers who lead in their PMI Chapters. This was also the first LMIC class held mainly in a virtual environment due to the global pandemic. The graduates first met in October 2019 and once the pandemic shut everything down, they continued their education virtually with great success. Lots of lessons learned through this new method of learning but the result made for unforgettable and strongly forged partnerships. Each graduate exemplifies all the pillars of leadership. Congratulations to all the graduates. 
PMI Toronto would especially like to acknowledge and congratulate PMI Toronto's Member of the Board of Directors, Bola Otaraki on graduating in the 2020 Leadership Institute Master Class program. Bola's commitment and leadership continues to shine with her contributions for the Cross Ontario Professional Development Day, the newly formed partnership with Windmill Microlending, and the recent Career Accelerator Program, just to name a few.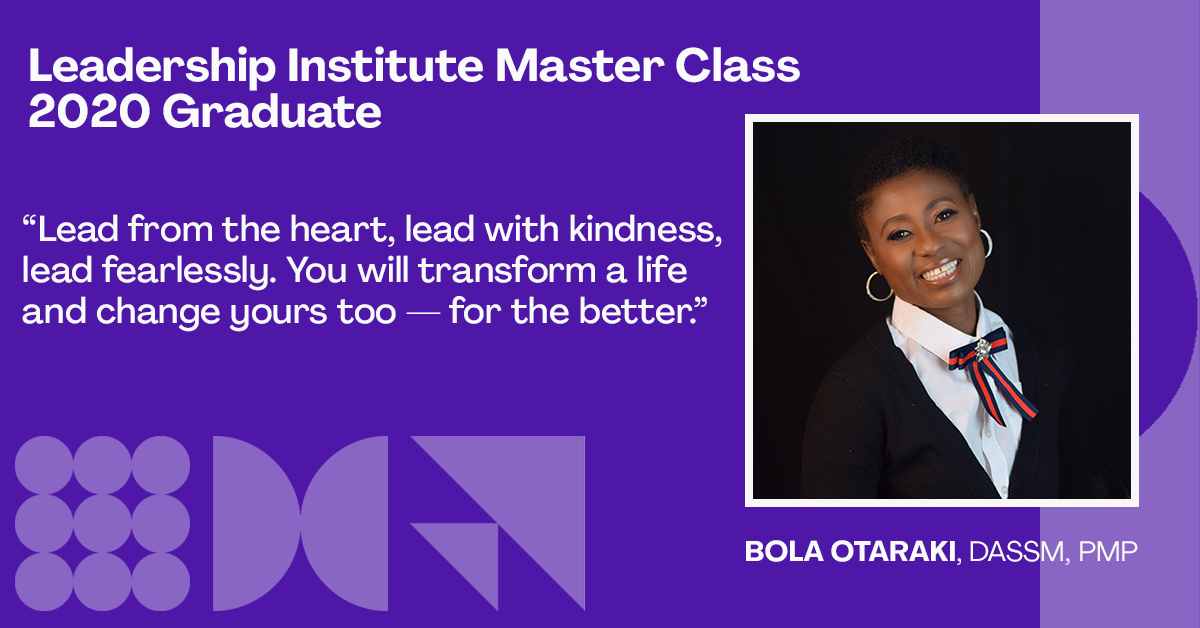 Diversity & Inclusion! Where do we begin?
PMIT's DEI Committee past Chairperson, Roberta Jane Heggie and current Chairperson, Christine Blair presented on the approaches taken to start, build, and engage a diversity, equity, and inclusion focused committee for our Chapter. Jane explains that "DEI is not one issue but has many facets." Is your team diverse? Do members feel heard? Is there a sense of belonging? Are there equal opportunities for growth? All these questions are just the tip to what PMIT's DEI Committee has learned and will continue to identify calls to action. The research leads have made great strides in creating DEI best practices to benefit different industries not just the PMIT community. Please read about PMIT's DEI Committee's first year of success—Diversity, Inclusion, and Equity: PMs Focused on Making a Change. As chapter leaders we need to include our entire membership! This is the heart of DEI.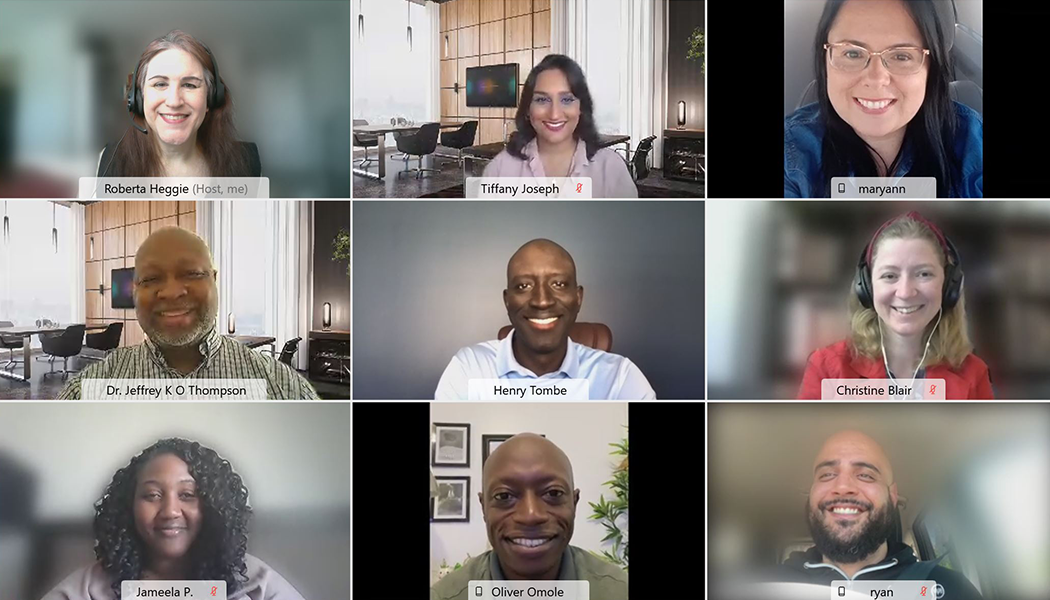 As an inclusion and belonging advocate for women in STEM—and all groups— Christine Blair first began her research project on corporate practice research, and she is quite passionate about allyship. Christine explained allyship is an important aspect of DEI. It starts "building from awareness to action." Taking steps to be an ally, learn more about the diverse members of your teams, and creating a team of belonging and inclusion will lead to team success and fulfilment. As recently appointed Committee Chairperson, Christine and the DEI team have another year of calls to action we are excited to be a part of and learn from. 
We would also like to thank Jane Heggie for her leadership and dedication to not only working to build the Committee and team but her continued support on all DEI initiatives. PMI wishes her great success out West and I'm sure we will be seeing Jane in cross collaboration chapter meetings soon. 
A New Look for Mentoring During the Pandemic
Chapter President Jeffrey Thompson and Chapter Treasurer/Secretary Ricardo Macorin led a great presentation on mentorship. As a Chapter we are dedicated to seeing our members grow in their careers, but you can't always do it alone. A mentor can guide and push you to new career goals but being a mentor can increase your leadership skills and teach you a lot about yourself. So, it's a win-win! 
Jeffrey outlined the history, value, and the lessons learned of the Chapter's mentoring programs. The strategic approach the mentoring programs use is Tuckman's five stages of team development: 
Ricardo then presented how the mentoring programs transitioned from an in-person experience to a virtual one due to the pandemic. For the program to be successful he explained that the audience needed to stay engaged throughout the program. What does this entail? First, keep cameras on to feel connected and participate, add some gamification to keep things fun, ask questions and speak out, hold smaller breakout groups to encourage more interaction and networking, prepare the content in a presentation format, and leverage an international audience. Did you know you can be a part of PMIT's mentoring programs and live outside of the GTA, even outside of Canada?
PMIT has two well-established mentoring programs. First is the Professional Mentoring Program which lasts six months. The longer program allows for mentors & mentees to connect and learn more. Many incredible projects and relationships can be built from this experience. Did you know that the Career Accelerator Program (CAP) started from a mentor/mentee team of the Professional Mentoring Program? Second, the Career Accelerator Program lasts three months and held two times a year. As a past mentee, I can't stress the importance of having a mentor especially if you are starting your career or looking to make a change. Having a mentor will give you the drive you need to move ahead. If you are interested in participating as a mentor or a mentee, reach out to mentoring@pmitoronto.ca to learn more. Both programs will start new cohorts in early 2022. Get your applications in and consider being a mentor!
PMIEF: The Bridge Between Youth and Social Good
How can we as project managers learn from the leaders of tomorrow? How can we support youth through social good and impact? Project Management Institute Educational Foundation (PMIEF)'s presented on their purpose, recent changes, and nonprofit partnerships. The speakers included Emily Sanders, Manager, Grants and Partnerships, PMIEF, Ram Dokka, PMIEF Chair, and Mitchell Fong, PMIEF Board of Directors—and past PMI Toronto President. PMIEF is aligned with PMI 4.0 to ensure the success of our global youth. The presentation covered the work done through PMIEF, academic programs, and how youth and social impact coordinators can drive initiatives forward.
PMIEF's vision is to inspire youth to achieve their goals and its mission is to enable youth to realize their full potential and transform their lives through project management. To reach more youth and make their dreams a reality PMIEF has enabled some changes. They include: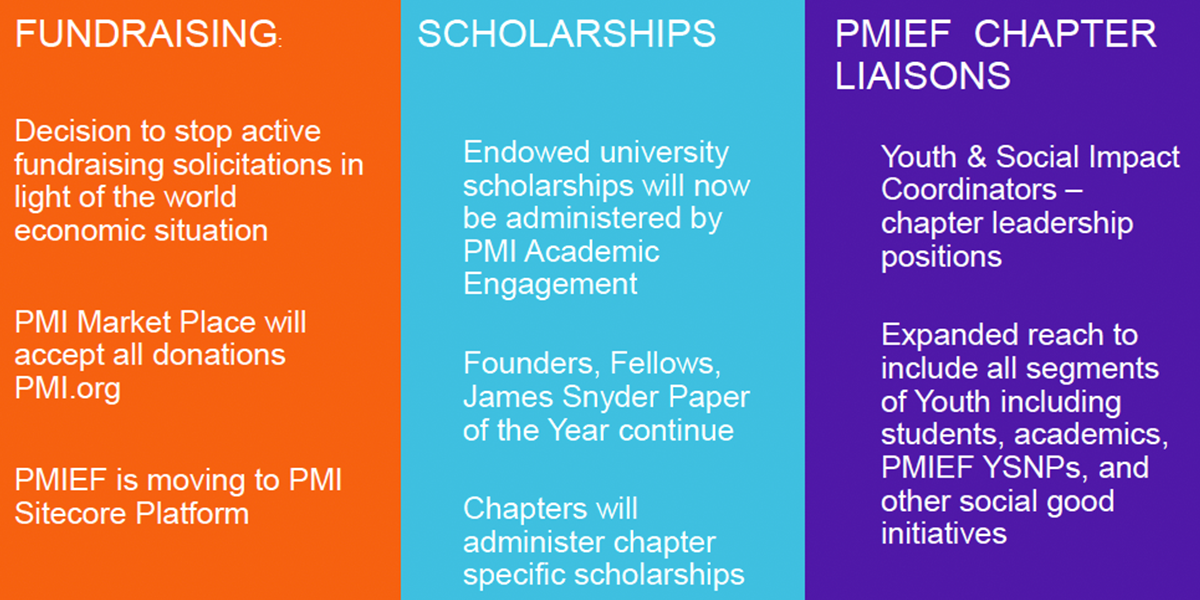 PMIEF awards grants to nonprofits and has partnerships with Children International, Special Olympics, Inc., Discover Engineering (DiscoverE), Junior Achievement—Africa & Europe, and F1 in Schools (F1iS). It has provided $2.4 million (US) is grants awarded to three nonprofits with plans to serve over one million youth in six continents by 2023. 
For anyone interested in getting involved and supporting PMIEF and the nonprofits they serve, Mitchell Fong explains:
> Volunteer with your local chapter through the Youth & Social Impact Coordinators
> Check VRMS for global and local opportunities 
> Pledge your hours for Impact
> Donate at the PMI Marketplace
Chapter of the Year Award Ceremony
PMI recognizes Chapters for their outstanding delivery of exemplary programs and services that build and mature the careers and credibility of professional project managers. The Chapters that stood apart this year delivered great value and networking opportunities to the members of their communities. Congratulations to all the PMI Chapter Nominees. A special nod to all the Canadian Chapters that have been working to make a difference for all Canadian project management professionals. PMIT applauds all your efforts and achievements.
Category I
(25-300 members)

Project Management Institute Distrito Federal, Brazil - Winner

Project Management Institute Zimbabwe
Project Management Institute Newfoundland & Labrador

Category II
(301-1500 members)

Project Management Institute Peral City, Hyderabad - Winner

Project Management Institute República Dominicana
Project Management Institute Kenya
Project Management Institute Vancouver Island

Category III
(1500+ members)

Project Management Institute Northern Italy - Winner

Project Management Institute Dallas
More Topics
The day was filled with many topics including data analytics, marketing, volunteer engagement, organizational transformation plus product showcases for disciplined agile and citizen developers. If you would like to learn more about the product offerings PMI has available check out our affiliate page for more details. 
Thank you to all the speakers at 2021's Leadership Institute Meeting.
---