<< Back
Garry Donaghy31 December at 12:00PM
Looking Back - Lessons Learned from PMIT's 2020 Winter Mentoring Program
My name is Garry Donaghy. I'm a Project Manager for a Canadian supermarket chain, and a certified PMP. I was also a mentee in the Fall Career Accelerator Program (CAP), a mentoring program led by PMI Toronto that ran from October to December 2020. 
CAP is a 1:1 mentoring program led by volunteers. A framework is provided for both the mentors and mentees to follow throughout the 12 weeks of the program, and 3 group sessions (kick-off, mid-term, and lessons learned) are also held. The Fall 2020 cohort kicked off on Sep 12. There was a mid-term check-in on Oct 24, and then finally a Lessons Learned session on Dec 12, with over 60 mentees and mentors attending.
Theme of the session: Reflections 
Interactive Sessions: Elevator Pitches, Quiz, Raffle
Main Session: Using LinkedIn Learning Effectively (Martin Illumin)
Highlight for me: The successes experienced by other program participants
The event kicked off with words from mentors and mentees who had taken part in the 12-wk program. 
The most resonating story for me was that of one mentee who lost their job 6wks into the program. This necessitated a pivot of their original goals to focus on resume re-writing and certifications, and illustrated how flexibility is a key component of any mentoring relationship. That mentee is now preparing for a key exam in their field.
Other mentees shared stories of working towards Agile or PMP designations, with mentors providing study advice and a "been there, done that" download of their own experiences.
Afterwards there was a chance to join in some breakout sessions, where we could network in small groups as well as practise our elevator pitches, with drop-in critiques from the program organisers like Edward or Pradeep. Valuable advice, and a quick-fire way to give & get feedback.
Lastly, we finished with a presentation from guest speaker Martin Illumin, who led us through the benefits of using LinkedIn Learning to boost our skills. 
Key Takeaways
from Martin's Session?
LinkedIn Learning can help you earn PDU's to maintain your PMP or CAPM standing!

Courses for new skills or areas of speciality; during COVID if you are taking on new roles at work, search for the topic/subject in LInkedIn Learning and see if you can clear up your beginner questions!

Learn wherever you are- use the smartphone app and the short-ormat lessons (from just 3mins!) to keep learning on your commute, or whenever you have a small break
Note: LinkedIn Learning is a subscription service, but free access via your library membership is possible (e.g. Toronto Public Libary member card holders). Search for the former name of the LinkedIn Learning service, Lynda.com to find out more! (Lynda.com access through TPL)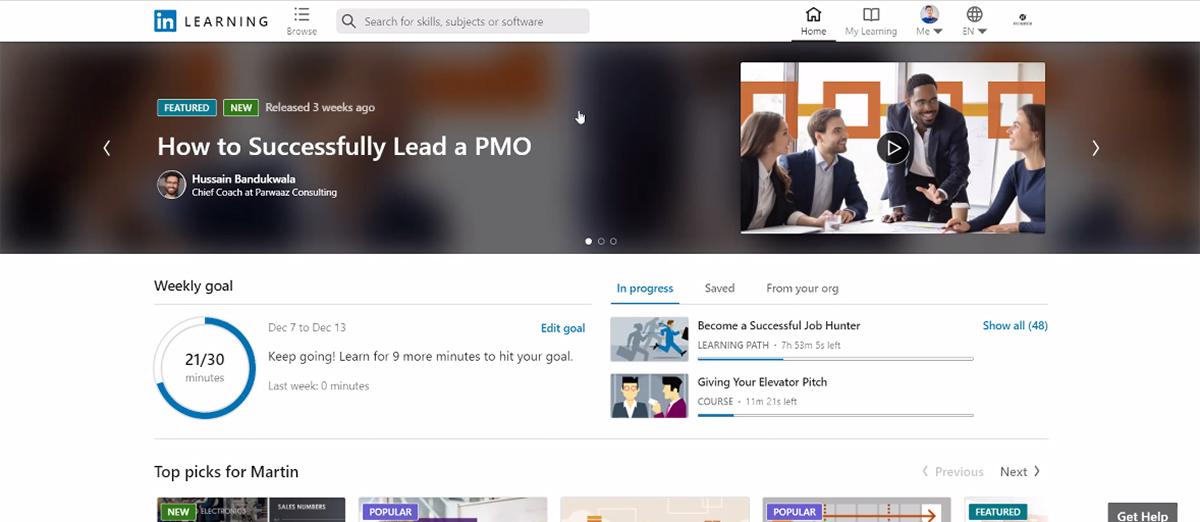 Although the CAP program has now ended, I enjoyed sharing and learning from the organisers and other mentees/mentors. I will keep in touch with my mentor in the future, and one day hope to be a mentor in a future edition of the program! 
If you are interested in participating in future cohorts, the next CAP session will be running from Feb-Apr 2021, and you can apply here for the Spring 2021 CAP session now!