<< Back
webmaster12 June at 01:40AM
Running Up to our 40th Year! Sharing Knowledge - Growing the Community!
message-from-the-president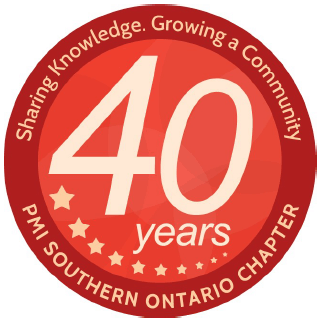 It has been a great year for our chapter with the success of Professional Development Day 2014 to the many new community support projects launched by the chapter. As we contemplate all the things that went on this year we look forward to the next. This fall the PMI Southern Ontario Chapter will celebrate its 40th Anniversary, and we are very pleased to announce that the celebrations are underway. We are kicking off the celebration this Summer with a series of special events building up toward our Anniversary Gala on November 7, 2015! We are now 6 months away from the 40th Anniversary, so look for announcements of our special events:
Participating in community events such as the Dragon Boat race
PMI-SOC Summer BBQ
International Project Management Day events
Professional Development Symposium
40th Anniversary Gala
We invite each and every member to be part of these activities. Please check out this link regularly for updates. 
https://www.soc.pmi.on.ca/general/custom.asp?page=40thanniversary
Your chapter is here for you and we hope that the program we put together is as exciting for you as it is for us – because we are members as well as volunteers, and our objective is Sharing Knowledge - Growing the Community! This year we are proud to announce that the chapter is sponsoring a Dragon Boat team! Our challenge to our members is: We Need Paddlers! If you want to be part of the action on June 20 and 21st at Toronto Centre Island Park then please find out more here: 
http://www.soc.pmi.on.ca/events/event_details.asp?id=639608 
There will be further announcements coming soon on the Summer BBQ so please check your inbox or visit the website.