<< Back
Noyel Kalyani30 August at 07:00AM
Transformation & the Adaption of Technology
Canadian Online Event (CoE)
Event Highlight

PMI Toronto offered the final Canadian Online Event (CoE) in June. The event was led by an absolutely brilliant chat with Simon Kalechstein, Senior Partner at IBM Consulting. Simon, who spoke about how IBM has had to evolve over the past decade to not only fit the new demands of technology but also to the change in client expectations. Today, businesses have to collaborate to offer customers the best experience and this breeds growth, productivity, talent, innovation, sustainability among a whole a list of other impacts on the organization. Simon showcase various scenarios in Canada as well as across the globe where IBM collaborated with various business, large and small, to provide their clients with the best suitable solutions.
The majority of the talk revolved using various techniques that Project Managers and Product Owners can use to achieve the desired result. Simon speaks about agile but one of the key focuses of his talk is a method used by IBM known as "IBM Garage".
Introducing Our Speaker
Simon Kalechstein is a Senior Partner with IBM Consulting. He has been with IBM for 20 years working with clients to accelerate digital transformations, from strategy to technology, incubation and scaling new ways of working including, IBM Garage. He has also led an exciting portfolio of work with clients to design new and differentiated experiences, implement award-winning solutions, and adopt new technologies to enhance client experience and operational efficiency.
Over the Decades
It's been over 100 years since the inception of IBM and over the decades, IBM has seen its share of shifting practices and innovating culture and technology to fit the modern era. From hardware-oriented company to a technology and service-centric, IBM has transformed several times to provide what's best for their clientele. For example, in 1960, 90% of IBM's revenue came from hardware and systems management; today, it makes up less than 10% of its revenue. Today, IBM largely focuses on Hybrid Cloud and AI (including software) and services.
Innovations with IBM: Impact on Businesses
Businesses today want scale like larger companies but still want to work like a start-up. To achieve this, outcomes need to be accelerated. So, IBM designed a method known as "IBM Garage" to achieve this. IBM works with clients to achieve and showcase this methodology along with a touch of Agile. IBM takes a new approach to partnership by instead of delivering work for a client, they work with them by co-creating and collaborating to build a combined mutual agreed roadmap, execute on that, and help team members and clients build new skills in ways of working and new technical skill to really help their careers and achieve the business imperatives and transformational outcomes. Below is an image showcasing business imperatives and transformations outcomes.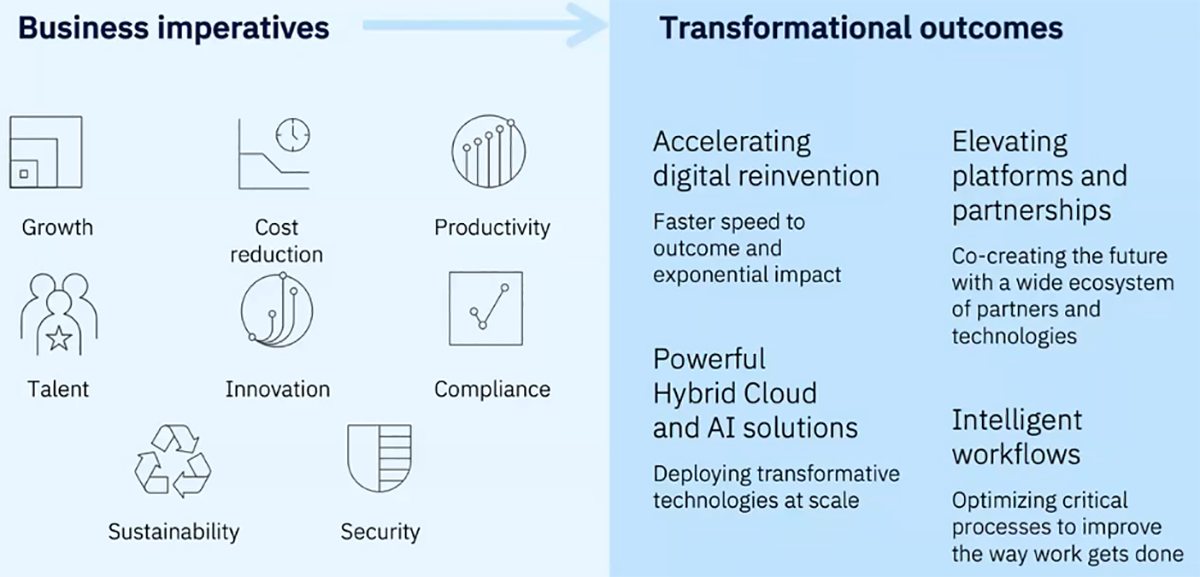 IBM Garage
Nearly 70% of digital transformations fail. Why? Lack of clear goals, lack of a roadmap, no minimal viable product ideation, lack of dedication and focus from leadership, etc. IBM Garage is a method developed by IBM Consulting to focus on fostering innovative culture, working collaboratively, building skills, new ways of working, delivering Minimal Viable Products (MVPs), and how to scale and market it quickly; all of that fused with modern technology. All enterprises, try to deliver products and services like a start-up and the IBM Garage method helps foster that. It is a framework for accelerating digital transformation. It helps enterprises generate innovative ideas and equips them with the practices, technologies and expertise to turn those ideas into business value in weeks.
How Does It Work
The IBM Garage method focuses on three pillars:
> Transformative Practices
> Empowering Teams
> Technology that accelerates
Transformative practices are to ideate, build, measure, iterate and scale solutions seamlessly with the IBM Garage Methodology. It provides end-to-end framework of design thinking, agile, and DevOps practices. Empowering teams achieves speed-to-value, new capabilities and meaningful culture change through the partnerships created with your team and a diverse set of IBM experts in business, design and technology. Technology that accelerates is to adopt breakthrough technologies quickly with the benefit of hardened patterns, industry innovations and IBM's multidisciplinary expertise.
The method breaks down further into three steps:
Co-create
Co-execute
Co-operate
Co-create is when a combined team of diverse subject matter experts are immersed in intensive design thinking and research activities to expose the true nature of a client's opportunity. It focuses on design thinking, research, and the end user needs. Its goal is to establish alignment on a "big idea" to address a specific pain point for a typical end user and create a vision for an MVP.
Co-execute is a solution development cycle that uses Agile and DevOps practices to quickly launch and test an MVP, while capitalizing on IBM's business and technology expertise—including hybrid cloud and AI—and the entirety of IBM's product and services portfolio. It focuses on starting to design, build, test, and deploy the initial MVP solutions and how to scale them. Its goal is to validate and improve the MVP's value in the marketplace through an iterative process of testing, measuring, and re-launching.
Co-operate is the hardening and scaling the robust solution – and the new culture of innovation – across the enterprise. It focuses on scaling, level of output, additional versions of products, and operating the solution that has been deployed. The biggest difference between traditional way of operations and the IBM Garage way of co-operating is that in the IBM Garage method; the people that build it, operates it. Its goal is to expand DevOps practices and cloud adoption to broaden feature sets, stress test code, strengthen security and resilience, deploy solutions widely, and expand capabilities, empowered with the confidence to continue to innovate and transform.
Generally, for projects, a project team is assembled, does a list of tasks, and is then disbanded and the operations is handed over. The Garage Method takes a different approach. It acts as an interface between the project team (Squad) and the business (Enterprise). It takes into account the business aspect, people and skills, and technology and operations and the proposes a plan to the enterprise that focuses on delivering excellence and value generation for all stakeholders. The diagram below relays the above operating structure of the Garage Method very well.
Conclusion
IBM Garage really focuses on bringing innovation and transformation together and that is evident on the three pillars that they stand on; transformative practices, empowered teams, and technology that accelerates. Transformative practices are ideating, building, iterating and scaling solution seamlessly. Empowering teams is achieving speed-to-value propositions, new capabilities, and meaningful culture change throughout the enterprise. Technology that accelerates is adopting breakthrough technologies quickly with the benefit of hardened patters, industry innovations, and IBM's multidisciplinary expertise. The three pillars further break down into three steps; co-create, co-execute, co-operate. This really helps set the pace that different enterprises are trying to achieve. Along with IBM Garage Methodology, the enterprise can put forth a plan of action and execute it to achieve their goals.