<< Back
Sandy Matos02 January at 11:00AM
Turn Stakeholder Resistors into Adopters of Change
Event Highlight
Northern Ontario Community

Technology changes so quickly nowadays; how do we keep up? As project managers we often have to navigate through technological advancements but how do we run interference with those who are resistant to change. In November, PMI Toronto's Northern Ontario Community (PMI-NOC) hosted an event that resonated with many of the night's audience. Moderated by the PMI-NOC Chair, Peter Taylor, who introduced the night's guest presenter, Neha Singh, the interactive and engaging presentation won over the stakeholders in the audience. De-risking Digital Adoption: How to turn change skeptics into empowered change leaders was the night's topic and a presentation every project management professional must attend. 
A Presenter with a Plan for Project Success
Neha Singh is the author of Useful—A How to Guide to Digital Adoption. With 10 years' experience as a PMP and the founder of PACE.global—a digital first lean training and digital adoption consulting firm in Sudbury, ON—she has a passion for project management in the mining sector. She established the Mining Technology Conference (http://www.beyonddigitaltransformation.com/) in 2018 which has donated over $100,000 to non-profits worldwide. Neha's passion and interest in digital adoption was quite apparent and the evening's presentation was full of great information and engaging communication.
Embracing the virtual world, Neha presented some great topics by interacting with the audience using menti.com to ask questions. The main outcomes for the evening was to:  
•  Understand the project manager's role in assessing and aligning with stakeholder-specific benefits
•  Evaluate risk management for projects that require the adoption of people-specific change
•  Apply the needed behaviours to allow for successful project benefits realization
•  Analyze change management capabilities for organizations undergoing digital change
Since 2011, technology has escalated, and we have seen new products with better technology every year. Just think back to the early 90s. Do you remember your first computer, cell phone, or music system? Anyone else remember digital dial-up? Did you ever look at the first iPod and think "I will never give up my CD player or radio?" Any past resistors out there?
Technology has affected not just the music fanatics, but project management roles have changed vastly too since before the 80s. Neha walked us through what project teams looked like pre-1980s.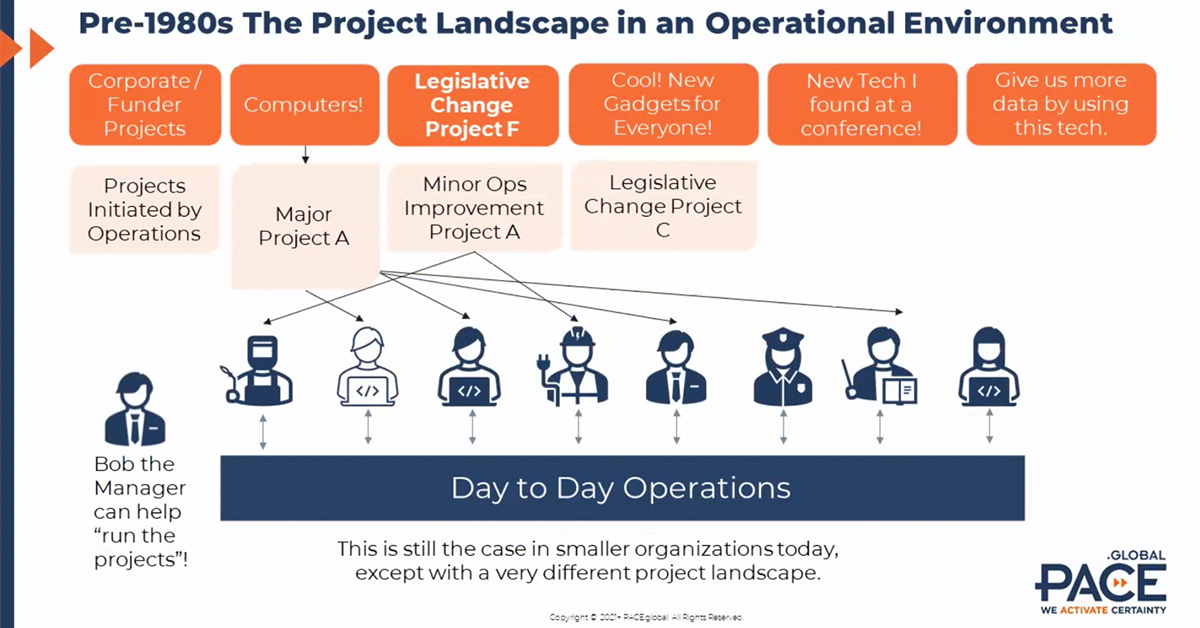 There were no distinct roles for projects and the need for project managers was a needed and welcome change. Project managers quickly adopted technology and, in many cases, led new technological advancement projects. If we think about how far technology has come and the benefits it offers, would you be surprised to hear that skeptics still exist? It's true! Some people are happy with what works for them—the old way works just fine—so why should they care. But change doesn't have to be scary. How do we as PMs get others to care about our projects? The reality is that in every day operations you and your project aren't going to be top-of-mind to others unless you do something to change their focus. Neha suggests, "Focus on the people to adopt the change and then work through the system to decide what is adoptable for those people." In the graphic below, the day-to-day operations outlook is far different from the one we saw before.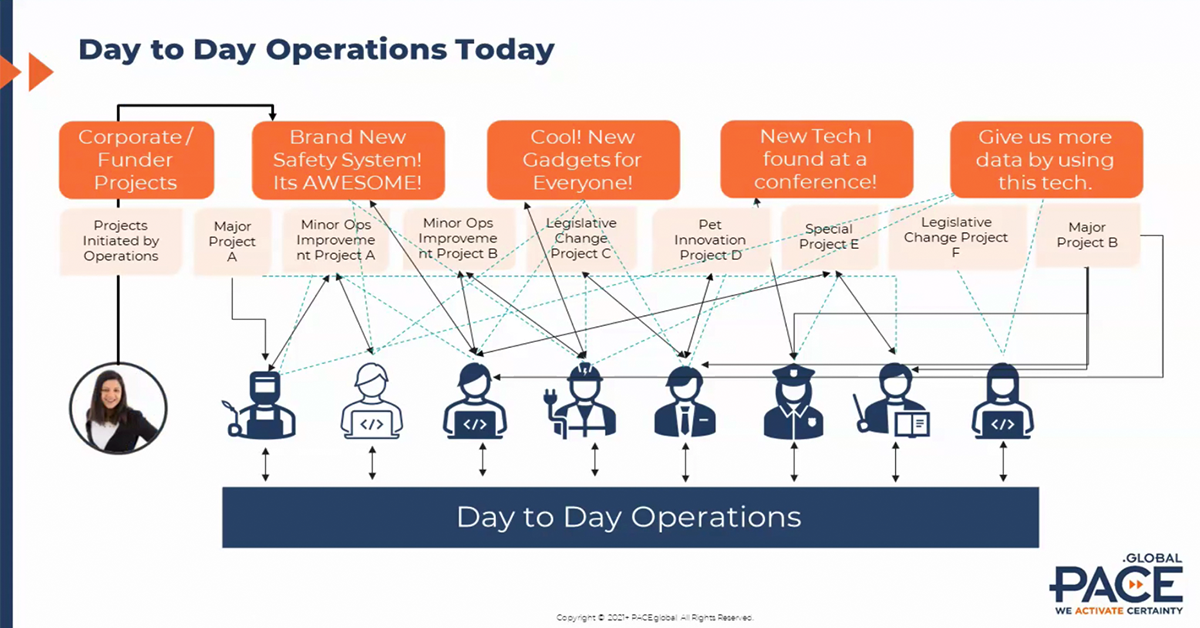 Avoid Risk; Engage Your Stakeholders
One of the questions of the evening was for PMs to rank the knowledge areas that they felt to be the most and least important. The audience felt scope and communications management were of greatest importance with schedule and cost management ranking at the low end. For Neha, she always ranks risk and stakeholder management as the most important areas. It is crucial to get the buy-in from people in order to achieve project success and delivery. Neha's top priority for engaging stakeholders is to know the stakeholders well and what it is they need in order to obtain their buy-in for any project.
Challenges always occur and getting stakeholders to accept new technological adoptions is no different. How can you as PMs turn this around? First we need to understand the problems before we can offer solutions—risk management is key. The main problems most PMs face are:
Competing for time and attention with other projects or operational priorities

Skeptical/Resistant stakeholders (sponsors and change leaders)

Spending too much time delivering one-off ad-hoc defences/benefits of your project—with strange criticism

The amount of technology features is overwhelming

Feeling like a project is unrealistic and it was dumped on you
Now that we know the potential problems, let's consider what the possibilities are of changing things around—move projects forward with full stakeholder support. Neha offers the following tips to shifting stakeholder engagement:
> Have a single definition of project success with realistic targets and timelines and connect it to operational benefits vs technology benefits
> Find change leaders who will help you drive adoption
> Create an integrated plan of adoption into the day-to-day operational schedule. The benefits will make a difference
> Get stakeholders' buy-in of the technology and they will help peers adopt the new process
> Realize that Technology Adoption will be a habit rather than a "change
Understanding who your stakeholders are will aid in your overall project success. 
Don't Let Pitfalls Get You Down
Project success is made up of many different aspects. But one of the big risks is coming up against stakeholders who will not budge or will not approve new changes. Some of the pitfalls Neha encourages us to avoid includes:
> Not identifying key stakeholders and outlining their roles
> Accepting unrealistic targets
> Time spent vs. the outcome achieved
> Creating one-off meetings for your project vs making it an operational meeting
> Having unprepared stakeholder meetings with no clear call to action
> Focusing on your "tech" instead of their "process"
> Not speaking to your stakeholders
When we look back to the importance of the knowledge areas it is clear that stakeholder management is vital. How can you build a communication plan, a schedule, or a project plan without knowing your stakeholders. How many of us have run into a situation where a project is going along smoothly and then out of nowhere we come face-to-face with a stakeholder we didn't even consider? Hopefully only a few of us have had this experience but knowing who our teams and end-users are, what they need, how they want to be involved, or how they can help in project success are all key questions. 
Neha advises to "establish clarity and the definition of project success with the leadership team and empower them to mobilize change and engage their teams." Once this is established "focus on the people who will undergo the change and let them know this change will improve their day-to-day." Finally, this will transform how people view change and instead of a resistor you are now faced with an adopter. Make change the norm.
Learn More About PMI's Northern Ontario Community
The Northern Ontario Community (PMI-NOC) was founded in September 2015 and represents individuals in multiple levels of project management including students. They have just celebrated their six-year anniversary. Many of their members are involved in projects related to the mining, health care, or technology industries. The PMI-NOC has more exciting events planned in 2022, so don't miss out. Check out PMI Toronto's Event calendar for upcoming dates or follow PMI-NOC on LinkedIn for more information.