<< Back
Elizabeth Bartolo, Garry Donaghy, Nico Primak, Osmary Torres, Julia Turkheim.01 November at 10:00PM
2020 Annual Leadership Institute Meeting (LIM) Highlights & What's New for PMI Global
On Saturday, Oct 17, PMI hosted the annual
Leadership Institute Meeting (LIM)
. This year, the meeting was a virtual gathering of PMI chapter leaders, coming together to share key learnings and to stay connected on all things PMI and leadership.  
The Leadership Institute is a program developed out of PMI's commitment to supporting and growing its volunteers participating in leadership roles.
Whether you were able to attend the event or not, keep reading on for some discussion highlights from LIM 2020 and for a look into what PMI has in store for its members!
PMI Global Areas of Focus
PMI Global has identified three areas of focus that are guiding the future of the organization and are helping to curate relevant and comprehensive offerings for its members.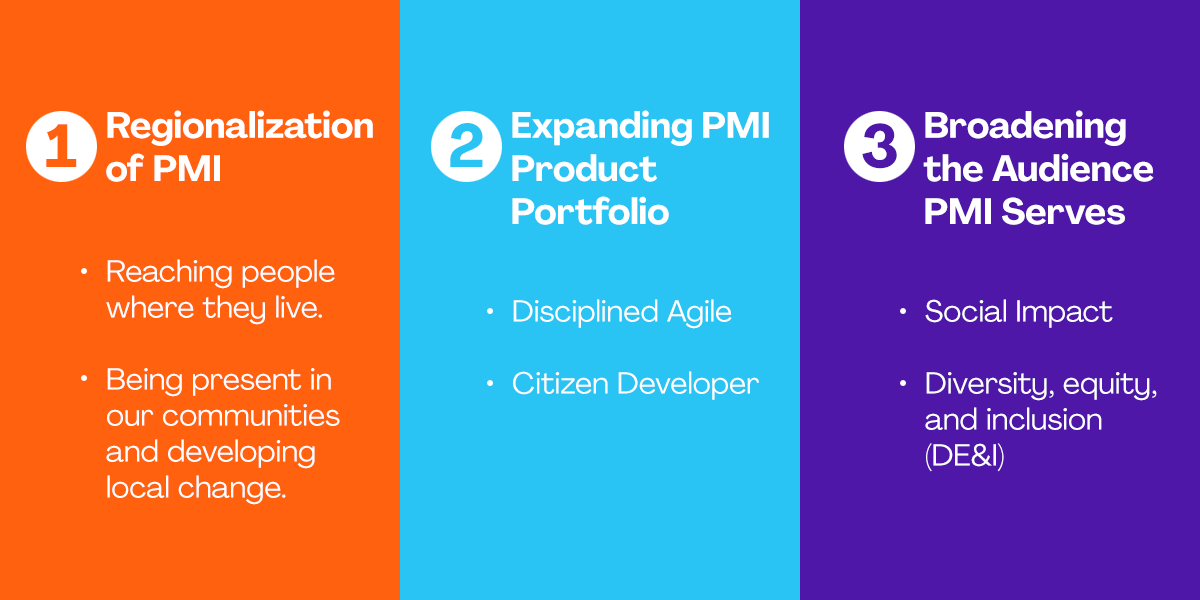 Whether you're interested in making a difference in your local community, or if you're just looking to refresh your technical project management toolkit, PMI has something for you!
Read on for some deeper dives into the PMI Global Focus Areas explored during LIM 2020 and learn more about how you can build your skills and get involved.
Diversity, Equity and Inclusion (DE&I)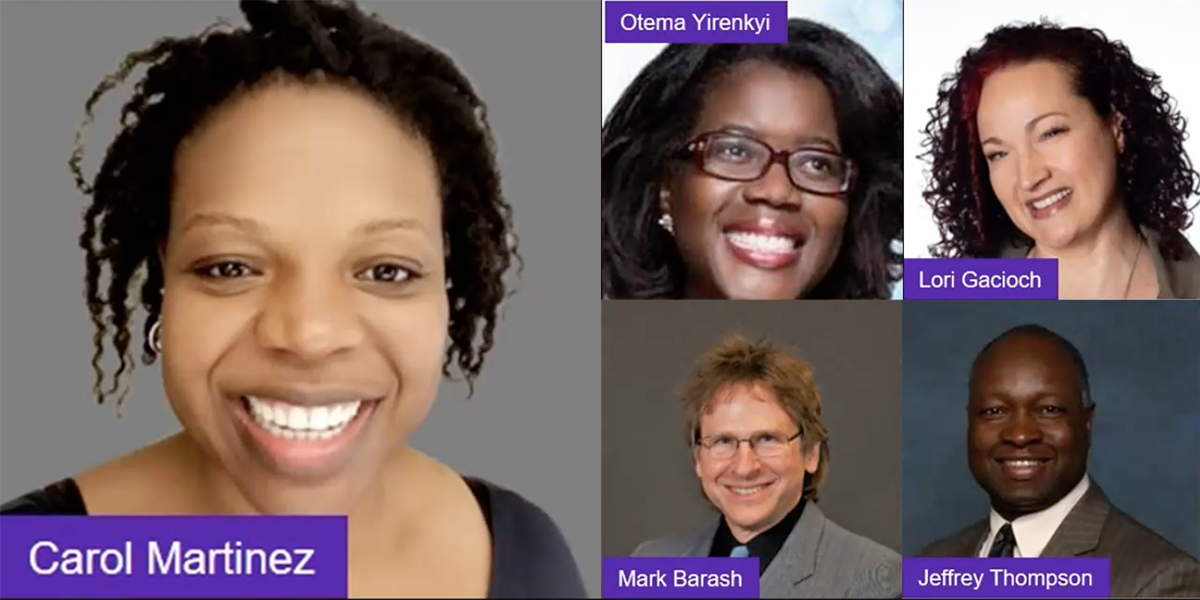 PMI is deeply committed to generating safe spaces where our community can discuss, support and learn more about Diversity, Equity & Inclusion (DE&I), including how to foster DE&I within our day-to-day leadership, operations and organizational culture.During LIM 2020, our President Jeffrey Thompson, along with Lori J Gacioch, President of the Rochester Chapter and Mark Barash, President of the New Jersey Chapter, shared with the PM international community highlights from how these chapters have been promoting DE&I, including:
Partnering with universities and students to discuss DE&I
Providing leadership training
Actively recruiting minority PMs
Incorporating DE&I language across chapter documentation and in every day activity, and
Sharing relevant blog content with all members to reinforce a commitment toward greater DE&I within our communities.
In line with our PMI Global priorities, PMI Toronto has created a commission to specifically address Intersectionality, Inclusion, Diversity, Equity and Anti-Black Racism (I IDEA), which among its impact will be sharing important stories via our Blog and engaging in conversation with our members to support I IDEA across our chapter, communities and throughout our professional practice in Toronto.
Social Impact and Giving Back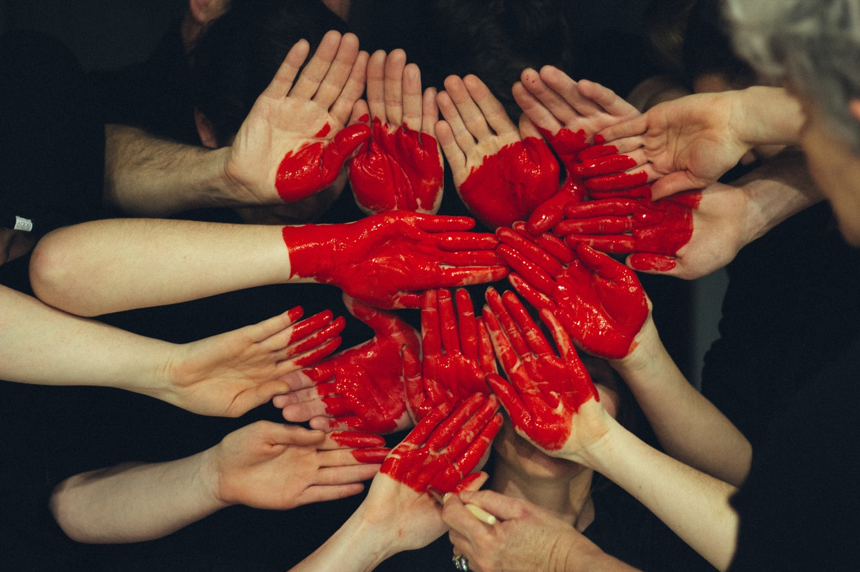 In line with PMI's commitment to broadening the audience we serve, PMI has partnered with Amnesty International to write letters in support of Human Rights Defenders and Prisoners of Conscience to amplify the impact and voices supporting the defense of Human Rights.
Amnesty International is a volunteer-based organization created in 1961 that lobbies with countries and international organizations to denounce Human Rights violations across the world. As an organization, Amnesty International promotes the work of Human Right Defenders and organizes volunteers to raise their collective voice against torture and death penalty; promotes protection of sexual and reproductive rights; and combats discrimination in defending refugees and migrants' rights. 
Similarly, in support of giving back to the broader community, PMI has shared a greater commitment to supporting the discussion around improving human lives and protecting the environment by promoting the UN Sustainable Development Goals via projects and programs in favor of the 17 goals. At PMI Toronto, we are taking action by sponsoring, for the second year, the Ontario Project Management Competition for post-secondary students who have designed and implemented projects which positively impact at least one of the 17 goals. Lastly, PMI's Global Month of Service will run from Nov 5, International Project Management Day, to Dec 5, International Volunteer Day. Learn more by visiting PMI - Global Month of Service.
Disciplined Agile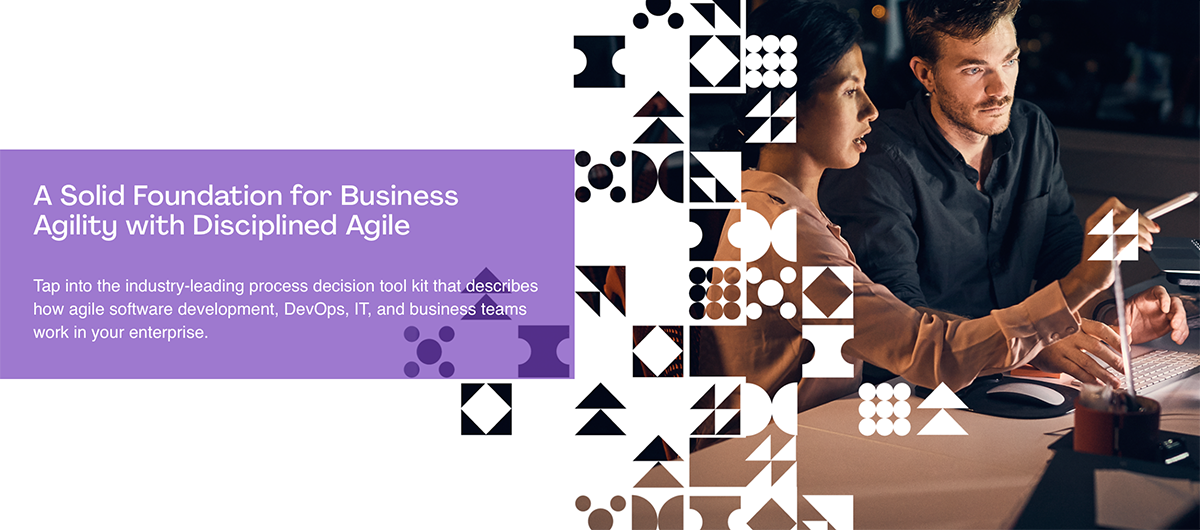 Shifting gears, LIM 2020 touched on Disciplined Agile as a "must have" in your project management toolkit. Disciplined Agile encompasses theories of Flow, Lean,Theories of Constraints and organizational development to help provide straightforward guidance to enable PMs to make better decisions about our way of working and increase our effectiveness.
As one of the largest, most influential international professional associations, PMI has proactively created training and professional certifications that allow its members to not only maintain competitive careers, but to be ahead of the demands of these changing and complex times by providing comprehensive hands-on frameworks and toolkits such as Disciplined Agile.
PMI currently offers a range of Disciplined Agile Certifications, available to practitioners at all stages of career. Learn more by visiting PMI - Agile Certifications.
Citizen Development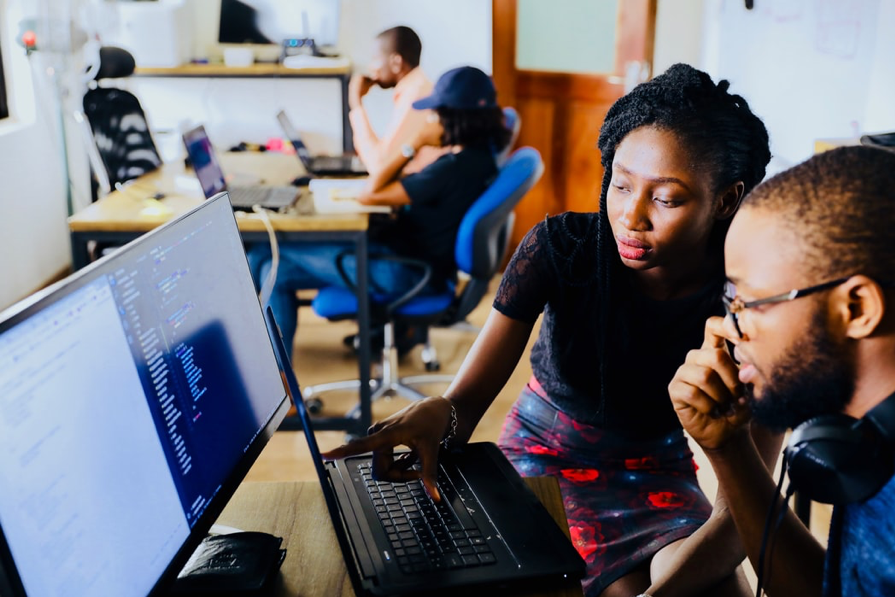 Citizen Development is a fantastic advancement underway that allows a user, the Citizen Developer, to create applications without having any coding expertise. By using low-code or no-code programs, Citizen Developers can create applications significantly faster and at a fraction of the cost of traditional development.
As this capability rapidly expands, there's a need for a comprehensive methodology and framework to structure its use. This is where PMI is bridging the gap between digital aspiration and effective strategy execution – offering books, courses, certifications, and an online community where Citizen Development flourishes. To learn more about PMI Citizen Development, head over to PMI - Citizen Developer.
Chapter Collaboration
In a time where staying connected is more important than ever, PMI is committed to supporting effective collaboration across members.
PMI has recently launched the Chapter Collaboration Platform as a go to place for Chapters to come together and "meet".
As a global community, this allows Chapter leaders to connect with one another to share their best practices, their challenges, or talk about anything that will build their capacity as professionals and contributors to their communities.The more connected PMI leaders are, the more value that can be shared and delivered to our members.
Discussion at LIM 2020 also highlighted further opportunities PMI has initiated to make sure teams can effectively collaborate to deliver social media strategies that inform and empower PMI members with the information they need.
Participants heard success stories from a member of the PMI Ethics Team as well as members from two PMI Chapters (PMI Chennai and PMI Lebanon):
PMI Chennai created an interchapter taskforce that brought together talents from diverse disciplines on the social media team, collaborated with other PMI Chapters in the region, and engaged with audiences at conferences, symposiums and leadership meetings. In addition they created a common social calendar the contained all events in PMI Region 11, this benefited Chapters and members.
The PMI Ethics Team had to overcome a challenge of having great ideas but lacking the voice and tools to communicate them. The team decided to network and established a partnership with Communications/Marketing/Social Media members from PMI LIM who agreed to support the PMI Ethics Team in sharing their content. This collaborative partnership, along with introducing a new hashtag (#PMIEthics) and other social media best practices, has led to increased engagement and an improved ability for members to access important content.
PMI Lebanon shared how they have promoted PMI Ethics and the impact they observed from sharing this content through social media, as well as in community workshops. They observed increased exposure to and awareness of the content and had more direct communication with their members as a result. Success!
We all know collaboration is key to getting good work done and PMI is taking charge to make sure we have the tools and opportunities we need to stay connected.
Chapter of the Year Awards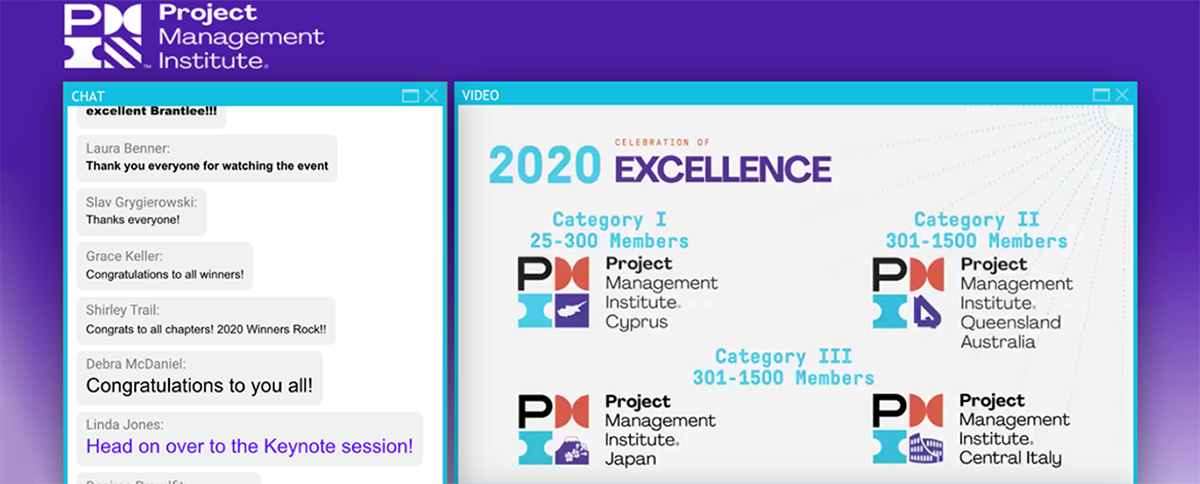 On the note of Chapter success, it's that time of the year where we acknowledge our different Chapters on the value they've been able to create for their members.
This year, we recognize the following Chapters for their growth in membership and their clear commitment to providing a valuable membership experience:
| | |
| --- | --- |
| Category 1 (25-300 members): Winner  | PMI Cyprus |
| Category 2 (301-1500 members): Winner | PMI Queensland Australia |
| Category 3 (1500+ members) Winners (tie) | PMI Japan and PMI Central Italy |
Congratulations to our winning Chapters!
Managing Business as Unusual
As the closing session at LIM 2020, attendees were treated to a thoughtful presentation by motivational coach Nicole Brandes, who talked about 6 keys to managing "Business as Unusual".
Nicole's introduction revolved around the idea of each of us becoming the "remarkable" version of ourselves. Her key point was that self-care and self-management comes first and that by effectively managing ourselves we can be measured and not react to all the uncertainty happening around us.
In line with these ideas, the 6 keys she described were choice, clarity, courage, commitment, community, and power of love.
What do they each mean? 
Choice
We can all choose LESS or MORE (acquire, spend, work, use, do, give, learn. Invest not only in skills to be a master of your craft but invest in yourself to be a master of yourself.
Clarity
Accomplishments happen when you have clear goals, visions and dreams. Having a big goal helps to drive you forward.
Courage
If we share our goals with others, immediately we see challenges, roadblocks, naysayers. This is all from FEAR. All people who achieve remarkable things are afraid but move forward anyway. Courage is a muscle and you can develop it.
Commitment
Talented people often have one thing in common – doing the little jobs other people are not willing to do. Commitment is a bridge between idea, inspiration and result. There is also a confidence "loop": confidence > competence > confidence.
Community
Bill Gates said it – "Everyone needs a coach". Find a peer or mentor who can inspire you or help you develop yourself without making all the common mistakes. Who is helping you? Who transforms your weakness into a strength? Who is your accountability partner?
Power of Love
Purpose and confidence help you do everything that you need to do, to accomplish your goals. With emotion, life happens. Be true to yourself with your health and soul. People will be inspired by you.
Wrapping up on this motivational note, we hope Nicole's message resonates with you and serves as some inspiration.
Take care, PMI Toronto!