<< Back to Calendar
Chapter Meeting - Creating Organizational Agility - Lessons Learned
Leadership
PMI Toronto Chapter Meetings = Excellent networking opportunities!
The Chapter Meetings provide plenty of time for networking, before and after the main presentation, so come with business cards and network with your peers!
Synopsis:
Bringing agile to your organization involves an understanding of the organizational culture, structure, and decision-making process. While each transition is unique there are many things we can learn from others. Our guest speakers, Kristina Riis, Magda Vogel and Deborah Gendron, will talk about their agile journey - from the creation of an agile transition strategy to determining how to track their journey to the current state of the transition. They will share important lessons they learned, things they wished they knew beforehand and results they achieved. At the end of the session, we will open the floor to questions.
Biography:
Kristina Riis, Managing Director, Project Delivery, Ontario Teacher's Pension Plan

Certified Agile Leader (CAL)
Kristina Riis has joined Ontario Teacher's Pension in 2016 as Managing Director, Project Delivery. She is responsible for overseeing the delivery of our projects, transformation programs and the Agile Centre of Excellence.
Kristina brings more than 20 years in Capital Markets and the Investment industry focused on strategic planning, design thinking, project management, culture/change management and process engineering experience. Her passion is helping organizations and teams to find purpose in the work they do to enable cultures of collaboration and creative thinking.
Previous to joining Teachers she held the role of Vice-President, Operations. At Dundee Corporation, she was responsible for setting up the operational-infrastructure of two new start-ups called Dundee Global Investment Management and Goodman and Company Investment Counsel
When not at work, you can find Kristina out on the water either sailing or paddle boarding. Her husband and daughter are avid surfers. Kristina's nine year-old daughter began surfing at three.
---
Magda Vogel, IT Sr. Director, Express Scripts Canada,

Certified Agile Leader (CAL), Project Management Professional (PMP)
Known for developing strategic vision to achieve business goals, Magda offers a unique blend of professional acumen and IT solutions development that deliver strong returns and operational improvement. As a certified and experienced project management professional (PMP) and Certified Agile Leader (CAL) and trained in the Foundations of Personal Coaching, Magda has built and transformed information technology teams that consistently deliver results by aligning technology initiatives with business objectives.
Express Scripts Canada is Canada's leading health benefit manager and has been recognized as one of the most innovative companies in the world. We provide active pharmacy services to more than 7 million Canadian patients and adjudicate more than 100 million pharmacy, dental, and extended health claims.
---
Deborah Gendron, Director, Program Management, Express Scripts Canada,

Certified Agile Leader (CAL), Project Management Professional (PMP)
Deborah has over 30 years of program management experience in the insurance and financial industries. At Express Scripts Canada, Deborah leads the organization's Agile Transformation and the Project Management Office. Delivering ESC's corporate program with a focus on maximizing business outcomes, she is responsible for a team of Scrum Masters, Delivery Managers and Financial Analysts. Deborah and her Agile Transformation Team are passionately championing change, to achieve business agility and delight ESC's customers.
---
David Sharrock, Executive Agile Coach, Agile42

Certified Enterprise Coach (CEC), Certified Scrum Trainer (CST)
Dave Sharrock has over 20 years experience working with product delivery organizations, from Fortune100 companies to startups, telecommunications to branded consumer goods, financial institutions to gaming companies. He brings a unique perspective to product development from a history of working both on the service and the client side.
As a sought-after speaker and consultant, Dave is an expert on organizational change and agile product and service delivery.
Dave is a senior consultant and enterprise agile coach for agile42, and the only Certified Enterprise Coach (CEC) and Certified Scrum Trainer (CST) in Canada.
---
Agenda:
6:00PM - Registration/Networking
6:45PM - Announcements
7:00PM - Presentation from Kristina Riis
7:20PM - Presentation from Magda Vogel and Deborah Gendron
7:40PM - Q&A session facilitated by Dave Sharrock
8:30PM - Networking
9:00PM - Event ends
Fees:
PMI Toronto Members (login prior to registering) – Free/Complimentary admission
Non-Members and Guests – $15.00
PDUs: 1.5 (Strategic and Business Management 1.5)
Sponsor: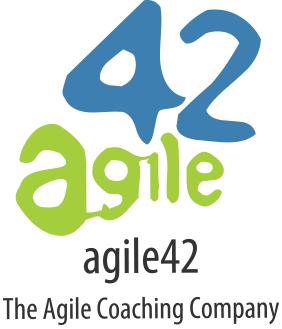 agile42
 is a market leader in providing 
Agile
 Transformation Services to companies who want to move toward a more effective and adaptive way of working.
--
Cancellations must be received by 5:00 pm, 5 business days before the event and must be sent in writing by email to events@pmitoronto.ca. There will be a 20% administration fee charged for cancellations, subtracted from the refund. Cancellation/refund requests will not be accepted less than 5 business days before the event. However, substitutions are welcome. Please let us know by 12:00 noon the day before the event of the person you wish to substitute by emailing events@pmitoronto.ca.
Photography & Filming: Photographs, audio, and video are sometimes captured during PMI Toronto events. By registering, attendees hereby grant PMI Toronto and its representatives permission to photograph and/or record them at events, and distribute (both now and in the future) the attendee's image or voice in photographs, videotapes, electronic reproductions, and audiotapes of such events and activities.
It is no longer possible to register for this event